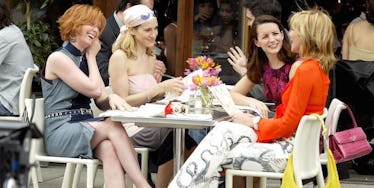 5 Of TV's Most Relatable Girl Squads Who Are Just Like Your Crew
Warner Bros. Television
Whether or not you're down with the lingo, we kind of have to accept that #GirlSquad is a thing.
Hey, why not?
It's just the Millennial version of best friends, pals and homegirls.
You know, it's filled with your main hangs, and you usually roll in cliques of three or more.
Taylor Swift's crew may be the most well-known girl squad in the biz, but let's just be honest here.
Swift and that gorgeous Selena Gomez girl have nothing on Samantha and Carrie.
I mean, Samantha dug that diaphragm out of Carrie's hoo-hoo while rocking a fresh mani.
That is the definition of true friendship.
Any close crew of chicks should also be able to admit that things aren't always smooth sailing between them.
A little shade thrown here and there can be common among girlfriends, and sometimes, issues can blow up into more serious problems.
Some friendships make it, and some don't.
It is what it is.
Here are some of TV's most relatable girl squads.
They're the ones who mirror our ups and downs with our besties.
They're the ones who taught us about life, love, friendship, fights, holding on, letting go and what shoes go with what earrings.
1. Hannah Horvath, Marnie Michaels, Jessa Johansson And Shoshanna Shapiro From "Girls"
With tension, irritation and disappointment sprinkled throughout all of their friendships, the girls on "Girls" can be anything but #SquadGoals sometimes.
You can't deny, however, that when the four of them are together, some of TV's realest moments are just a scene away.
Whether it's Shosh calling out the group during their beach getaway, or Hannah and Marnie's epic season one showdown, all these girls have been in the wrong at some point.
But, they've always worked it out for the sake of the crew.
Well, except for Jessa, who somehow finds herself back in their good graces after several girl code violations.
Sound familiar in your clique?
2. Khadijah James, Synclaire James, Regine Hunter And Maxine Shaw From "Living Single"
Wedged in between Queen Latifah's hip-hop roots and her Hollywood takeover was this show.
"Living Single" starred the future Oscar-nominee as a journalist who ran her own indie magazine, "Flavor."
Along with her goofball cousin Synclaire, bougie roommate Regine and college bestie Maxine Shaw (attorney at law), the foursome explored love and life in NYC years before our beloved "SATC" crew.
3. Carrie Bradshaw, Samantha Jones, Charlotte York And Miranda Hobbes From "Sex and the City"
OK, OK, I know.
"Sex and the City" doesn't quite ring up as "relatable" to a struggling 20-something.
How the hell does Carrie drop $40,000 on shoes by writing one column a week, anyway?
Still, these four are the definition of #GirlSquad. They have each other's backs unconditionally, even through more than a few rough patches.
Did Samantha really have to sleep with Charlotte's brother?
Probably not, but it all worked out for the best, didn't it?
Any number of Carrie and Miranda's arguments could have easily been friend-enders, but these four Manhattan mavens always worked it out.
They even strutted around in Manolos all day like bunions weren't a thing.
#SquadGoals for real.
4. Joan Clayton, Toni Childs, Lynn Searcy And Maya Wilkes From "Girlfriends"
While haters initially labeled this landmark show as a replica of "Sex and the City," anyone who took the time to get to know these characters could easily see they stood out all on their own.
These four Los Angeles women all represented different textures and tones of black women living in la-la land.
From the hood to the hills, they covered it all while maintaining their often rocky friendships.
In the end, besties Joan and Toni just couldn't get it together.
But if we're being honest, don't we all have at least one ex-friend who we thought would be in our lives forever?
5. Dorothy Zbornak, Sophia Petrillo, Rose Nylund And Blanche Devereaux From "The Golden Girls"
I'm sorry, but it doesn't get any triller than these four.
These women of a certain age didn't let a little thing like society or arthritis keep them from living life or loving each other.
Sure, Sophia could crack jokes with the best of them, and Rose's late-in-life naivety was impossibly annoying to the girls at times, but they were determined to ride out those golden years together in sunny Miami.
It's not a bad way to ride out into the sunset with your girls.
#Squad4Life.
What TV crew represents your #SquadGoals? Let me know in the comments below.