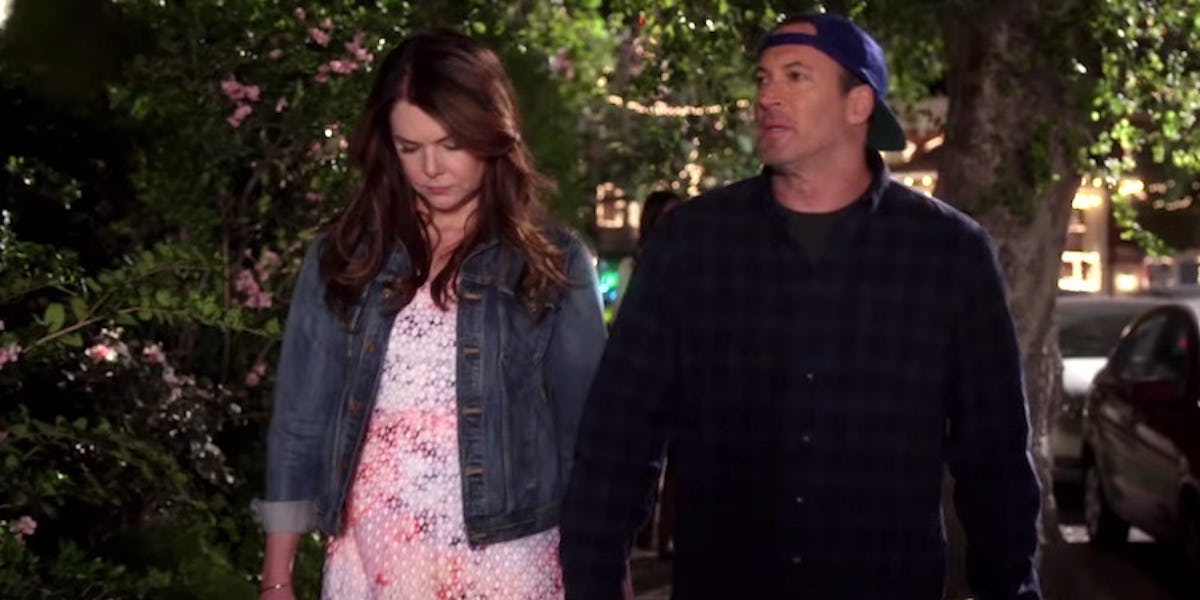 First 'Gilmore Girls' Trailer Proves Luke And Lorelai Are Definitely Together
Netflix
Oh, hey, cool, the first "Gilmore Girls: A Year in the Life" trailer is here.
That's chill. Casual. No big deal or anything. Definitely not having an internal meltdown right now.
Just kidding, I obviously am.
AHHHHHHHHH!!! *hysterical sobbing*
This first full-length trailer dropped on Tuesday morning, exactly one month before the four-episode "Gilmore Girls" revival begins streaming on Netflix (November 25).
"A Year in the Life" will be four 90-minute episodes, and each episode will cover a different season of the year.
We're picking up with our favorite Gilmores eight years after where we left off in season seven.
This is the first actual footage we've seen from the revival.
Back in July, Netflix announced the release date of the series with a short teaser, but that was made specifically for the announcement, and is not actually footage from the series.
Now we have actual proof this series will exist, and it looks SO GOOD.
Everything about this feels exactly like stepping back in time to the Stars Hollow of 2007, from Luke's diner to Friday night dinners to the junk food to the pop culture references.
Important things to note from this trailer:
1. Luke and Lorelai are definitely together, and probably married. Lorelai says, "Luke and I are happy." YESSSS!!! AND THEY ARE HOLDING HANDS.
2. Rory seems to be at something of a crossroads in her life. She tells Jess, "I have no job, I have no credit, I have no underwear!" (Why doesn't Rory have underwear?!?)
3. Also, Jess and Rory are HAVING A MEAL TOGETHER!!!
4. Emily is coping with Richard's (and actor Edward Herrmann's) death and making us all cry about it. She says, "I've been married for 50 years. Half of me is gone." Emily, noooo.
Guys. It's "GILMORE GIRLS"! "GILMORE GIRLS" IS REALLY BACK!
JUST LOOK AT THEM. LOOK AT RORY. LOOK AT LORELAI. LOOK AT EMILY. LOOK AT RICHARD'S GIANT PORTRAIT. LOOK AT LUKE. LOOK AT LOGAN. LOOK AT JESS!!!
And Dean, too, I guess.
"Gilmore Girls: A Year in the Life" will begin streaming on Netflix on November 25.
OK, I'm going to go cry in a corner while humming Carole King for the next month, bye!