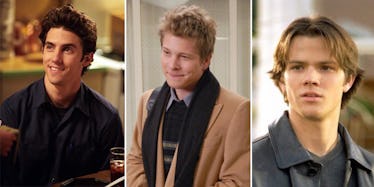 'Gilmore Girls' Fans Weigh In On Which Ex They Think Rory Will End Up With
WB
As the date of the "Gilmore Girls" revival gets closer and closer (November 25!), we all have one important question on our minds:
OMG RORY, GIRL, WHICH SEXY MAN ARE YOU GONNA DATE??!?!
KIDDING, you guys, I'm kidding.
Obviously there is more besides Rory's love life we want to know about — like her career, her happiness and other dumb stuff like that.
But still. Thanks to a slip from the actor who plays Taylor Doose, we know it's pretty likely Rory will be romantically involved with one of her exes in the revival.
So you can't blame fans for rooting for their favorite ex.
But who exactly is the favorite Rory boy of the "Gilmore Girls" fandom?
I polled people at the "Gilmore Girls" Fan Festival in Washington, CT this weekend to find out.
Team Logan
"I think Rory should end up with Logan. Logan gets a bad rap, but I feel like that's because Rory was going through a tough time when they were dating. To discount him is a mistake because he was going places."
—Elisabeth Skiles, 22, from Chicago, IL
"I'm Team Logan all the way. The place that Rory left off at in her life, she wouldn't be able to fit back in with anyone else. She grew so much with Logan, and they understand each other on a more mature level."
—Tahira Williams, 29, from Stratford, CT
"I'm Team Logan. I thought he brought out a playful side in Rory that you didn't see much of when she was younger."
—Danielle Rothman, 28, from New York, NY
"Logan. He was a good boyfriend to her, and he was romantic. There was miscommunication when she thought he cheated on her, but I think they should end up together."
—Daphne Picazo, 28, from Las Vegas, NV
"I'm Team Logan. Logan is a pompous asshole at the beginning, I agree with that. But through the seasons he grows up, and Rory matures right along with him. They're not the same people they are when they first meet."
—Veronica Olsen, 29, from Boston, MA
Logan, the most recent boyfriend of Rory's, had a decent amount of fans on his side. But he still fell way behind the clear winner of this poll, which was obviously...
Team Jess
"I think she should end up with Jess. At the beginning they weren't a perfect match, but now that he's matured, there's really no reason that they shouldn't be together."
—Sam Spoone, 24, from Orlando, FL
"Jess. By the end of the series, he was the one who had it together and seemed like he was moving in the same direction that she was."
—Laura Sutherland, 23, from Boston, MA
"I think Rory should end up with Jess. As soon as Dean started fighting with Jess, I just lost all respect for him. Also, in my opinion, Jess is so much better looking than Dean."
—Zachary, 20, from Middlefield, CT
"Jess. They didn't really get their time to show when they were both mature enough to do so."
—Kimberly Evans, 35, from Bridgeport, CT
"I've always liked Jess, even though he was kind of a dickhead."
—Brittany Collins, 28, from Sunnyvale, CA
"Definitely Jess. He really, truly loved her. I know the other two did too, but I feel like he put more into it for her. He changed for her."
—Amanda Wilson, 24, from New Milford, CT
"Rory should definitely end up with Jess. His character development is solid. Dean turns into a jerk, and Jess really matures."
—Sam, 19, from Higganum, CT
"I believe she's going to end up with Logan, because that's where the storyline is going. But ideally I'd like her to end up with Jess, because they're better matched for each other."
—Stacy Etesam, 33 from North Haven, CT
"I personally would want her to be with Jess, but at this stage in her life that's probably not a good thing. Jess, no matter what, should always be in her life, but maybe not as a husband for Rory, but as supportive best friend."
—Mariko Hunt, 30, from New York, NY
As you can see, the Team Jesses outnumbered the Team Logans nearly two to one. People just can't resist that bad boy charm.
However, some people didn't prefer Logan or Jess, and instead went with...
Team Rory / Team Nobody
"I'm struggling with the answer. I do think that Jess is a better match for her, but I feel like their story is over. You can't go backwards. I don't think she'll end up with Logan, though. After the whole bridesmaids situation, she never trusted him again. That broke them. Them trying to get back together would be something missing. So I don't know."
—Ariana Langston, 21, from Boston, MA
"I don't think she should end up with either of the three. She's learned a lot from her mother and her grandmother and she's developed a good sense of self in the seven seasons that we've seen. I don't think she necessarily has to end up with someone."
—Dio Espinal, 26, from New York, NY
"Rory should not end up with any of her ex-boyfriends. They all had their flaws, and I think she's independent enough to not be tied down to any one man."
—Jessa Henry, 26, from Secaucus, NJ
"To be honest, I think she should just be with herself. She's been through a lot with the relationships she's had with Dean, Jess and Logan. Team Rory all the way."
—Mary Michael, 22, from Rochelle Park, NJ
Strong independent woman for the win.
Hm? I'm forgetting someone, you say?
Oh, right...
Team Dean
"I'm Team Dean. He was her first boyfriend and her first love. I just think it's meant to be."
—Alexis Hoinkis, 25, from New Jersey
Yep, of the 20 people that I interviewed, only one person said Dean. And I only found this person by asking around to see if anyone, please, knew of ANYONE who was Team Dean.
If you need further evidence of Dean's unpopularity, watch this video I took from one of the festival panels:
At last night's panel the mod polled the audience on what "team" they were...poor, poor Dean. #GilmoreGirlsFanFest. pic.twitter.com/xZenNLiPB8 — Anna Menta (@annalikestweets) October 22, 2016
So basically, no one likes Dean. Sorry, Dean!