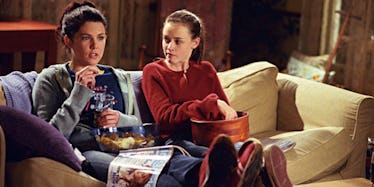 'Gilmore Girls' Creator Says Rory Will Be In A Quarter-Life Crisis On Revival
The WB
Remember back in January when Lauren Graham confirmed a return of the "Gilmore Girls" and everyone went crazy? Here it is:
Well, prepare to feel those things all over again.
The show's creator, Amy Sherman-Palladino, dropped some serious hints about the plot for the new Netflix series "Gilmore Girls: A Year in the Life."
It follows the stories of three women at a crossroads.
Rory's story, in particular, sounds like it'll strike a chord with us Millennials.
According to tvline.com, the creator told a small group of reporters,
It's this idea of, you hit [your 30s], you did everything right — you went to college, you had the good grades, you worked really hard — and yet somehow life isn't turning out the way you wanted it to turn out. And because the world is changing I think that's something a lot of very well educated kids are going through. They're turning around going, "I did it. I did the homework. I did the finals. I did the whole thing. Why am I not getting where I need to go?"
Sounds familiar, right?
"Gilmore Girls" has been teasing us all on Instagram since a date was dropped for the series release.
AAARGH.
All the excitement.