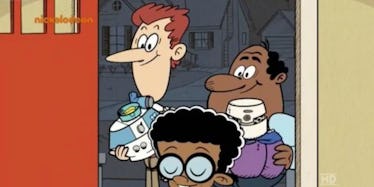 Nickelodeon Will Debut Its First Gay Married Couple On This New Cartoon
Nickelodeon
This is a landmark day. According to reports, Nickelodeon's new cartoon show "The Loud House" will feature a gay married couple. This is the first time Nick has opted to showcase a gay couple on the network.
It appears the couple, Harold and Howard McBride, voiced by comedians Wayne Brady and Michael McDonald, will be gay as well as interracial, proving Nickelodeon is wading into these previously uncharted waters firmly with both feet.
Harold and Howard McBride are the parents of Clyde McBride, one of Lincoln Loud's best friends. Apparently, Loud is a young boy who deals with the challenges of being in a family where he's outnumbered by 10 -- 10? -- sisters. I guess we understand why the show is called "The Loud House."
The show is currently in its pilot season, and the reactions on Twitter concerning Nickelodeon's decision to have a gay, interracial couple appear to be pretty supportive.
.@Ieodavinci thanks for sharing this! So excited to see a interracial gay couple in a kids cartoon on @NickelodeonTV #TheLoudHouse — Justin Stewart (@ProducerStewart) July 18, 2016
@Ieodavinci I feel like they handled that really well. Didn't make it too obvious, let it feel natural and unassuming like a regular family. — ScorchMuffins (@ZenkaiPowuh) July 17, 2016
@Ieodavinci COME ON REPRESENTATION — makayla (@softcheekbones) July 17, 2016
Much respect, Nickelodeon.
Citations: Nickelodeon cartoon Loud House to feature married gay couple (Entertainment Weekly)