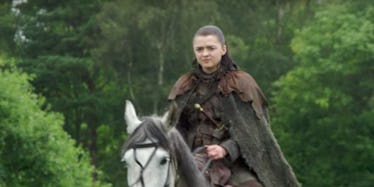 'Game Of Thrones' Behind-The-Scenes Footage Reveals Major Arya Spoiler
HBO
Arya Stark has a lot to take care of in Season 7 of Game of Thrones... a whole list full of things, to be more precise. But before she can start crossing off names, it looks like she's going back home.
There's been a lot of fan speculation over where Arya's headed now that she's completed her apprenticeship with Jaqen H'ghar and the Faceless Men of Braavos. A lot of viewers assumed she'd head down to King's Landing, where most of the people on her kill list are located, but one eagle-eyed fan noticed something that indicates Arya will be staying up north for a bit.
In the background of one quick shot in a new behind-the-scenes video about the costume design of Game of Thrones, a fan noticed one prop next to Sansa in Winterfell that was particularly telling. Yep — Arya's sword Needle is in Winterfell, which must mean Arya is back home as well.
We can see a quick peek of a production assistant carrying Needle while walking behind Sansa in the Winterfell crypts setting, which has fans thinking that there must be a reunion between Arya and Sansa in the Winterfell crypts in the new season.
But there could be more than just a reunion! The Winterfell crypts have already become a setting raising much discussion and theorizing online after the Season 7 trailer shows Jon Snow and Littlefinger getting into a fight there. Could Arya's return home also affect Jon and Littlefinger's conflict?
Some fans are assuming Jon's little sis will indeed get involved in the fight and put her assassin training to good use.
This theory makes even more sense considering we've seen photos of Arya carrying Littefinger's Valyrian steel dagger in some promo shots for the new season.
So now we know both Arya and Littlefinger will be in the Winterfell crypts in the new season, and Arya will wield Littlefinger's dagger as well. All signs seem to be pointing to one thing: Arya kills Littlefinger in Season 7.