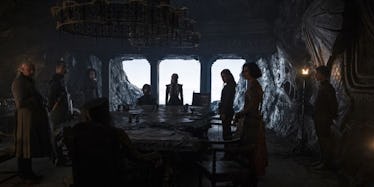 'Game of Thrones' Season 8 Premiere Date Still Up In The Air, Our Lives Still On Hold
HBO
If San Diego Comic Con is over for the year, then it must be time for the Television Critics Association's two week marathon in the Beverly Hills Hotel, where HBO gave us some exciting news on July 26. The event, which features presentations from nearly every broadcast channel as they work to hype current and upcoming productions, is a treasure trove of news about your favorite shows. This afternoon it was HBO's turn, where network president Casey Bloys admitted the Game of Thrones Season 8 premiere date is still undecided.
The current issue at hand: though there are only six episodes left to film, many of them are much longer than the normal Game of Thrones episode installments. Some rumors are saying each is the length of a feature length film. (So, 90 minutes or more.)
Bloys didn't confirm or deny rumors about episode length, but he did state that all six scripts are, in fact, finished.
It's just a matter of how long they'll need to shoot them.
It should be noted that the average Game of Thrones season (normally 10 episodes, up until this year) takes about six months to shoot, with three months of CGI work. Season 7 was only seven episodes, but took just as long to shoot, with an additional four month long CGI post-production period.
The current estimate for the season is "2018 or 2019."
It sounds like a huge window when you think about it, but probably isn't. If the show were to debut in 2018, it would likely not do so until at least midsummer, much like Season 7. But if it aired in 2019, it would most likely find itself in the original April-May period that the first six seasons occupied.
If the show does go in the 2018 summer slot, that would be great for audience numbers -- it will probably have the field to itself, much like it does this year.
A 2018 debut would be bad for Emmys, though.
The timing of this season of Game of Thrones is confusing enough — this year, the season is before the awards ceremony, but after the eligibility period closes, so it'll be eligible for the 2018 Emmys.
If the show does the same again next year, and airs the final six episodes only to have awards (hopefully) handed out for Season 7, that's even harder for audiences to grasp. It wouldn't be surprising to see the showrunners move the show at least to late 2018 or early 2019, if not hold the show to the regular spring slot.
So either way — be prepared for a long, cold, tragic winter. Like all of Westeros, we're going to have to wait it out.