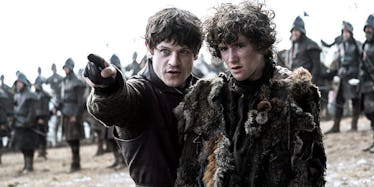 'GOT' Fans Can't Get Over Rickon's Tweet About 'The Battle Of The Bastards'
HBO
Sunday's epic "Battle of the Bastards" ultimately gave "Game of Thrones" fans what they wanted most: the gruesome demise of Ramsay Bolton.
However, Ramsay still managed to inflict damage until his final moments. "GoT" fans won't soon forget the arrow that killed Rickon Stark just as Jon Snow was about to save him.
And it looks like Art Parkinson – who played Rickon on "Game of Thrones" – won't either.
Once the dust settled and Winterfell was retaken by the Starks, Parkinson jumped on Twitter on Monday to share his condolences for young Rickon Stark. In just a few words, he pretty much summed up what we all were thinking while watching Rickon try to outrun Ramsay Bolton's arrows.
I mean, ya think? Many "Game of Thrones" fans took to Twitter to express their anger over the fact that Rickon didn't even attempt to make it hard on Ramsay.
I personally was screaming, "Barrel roll!" at the screen for a solid 20 seconds. But poor Rickon ran straight, and eventually fell just before Jon Snow could grab him.
Following Art Parkinson's tweet about Rickon's death, Twitter once again erupted over the latest Stark casualty.
@art_parkinson me watching you run to Jon you were so close thanks for everything pic.twitter.com/7lUEbo4nS5 — . (@meIlisandre) June 21, 2016
Well, unlike is the case with Jon Snow's battle strategy, at least we're all in agreement about this one.
Citations: 'Game of Thrones' star sums up all our thoughts about his character in 1 simple tweet (Mashable)