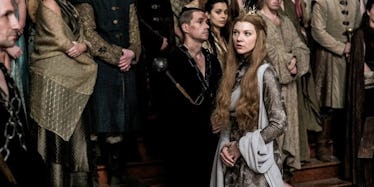 Margaery From 'Game Of Thrones' Talks About Her Insane Scene In The Finale
HBO
I can't believe I'm writing this, but season six of "Game of Thrones" is actually over. Despite how brilliant Sunday night's finale was, my life feels a little emptier this Monday morning, but we must carry on.
In season six episode 10, "The Winds of Winter," several characters' time on "Game of Thrones" came to an end. One of the most notable deaths was that of Queen Margaery Tyrell, who, along with her brother and father, was burned to a crisp as the Great Sept of Baelor was engulfed in wildfire.
Cersei Lannister, who is now well and truly the "Mad Queen," set her plans in motion with the help of Qyburn and took out the High Sparrow, his religious fanatics and Margaery for good.
I can't speak for all "GoT" fans, but the death of Margaery Tyrell didn't sit right with me. Her character played such an integral role in the show, and seeing her meet such a quick end felt a bit, well, cheap.
However, it appears Natalie Dormer, who played Margaery on "Game of Thrones," wasn't the least bit surprised to see her character go up in green flames.
Speaking on her exit from Westeros, Dormer said,
It seemed an exciting, fitting way to depart. Margaery's been battling Cersei for the last however many years and she ends up dying on the show not because she didn't beat Cersei, but because she trusted that someone else — the Sparrow — was handling her.
She continued,
She had the reins taken away from her, from being in control of the situation; the High Sparrow took the reins and it proves that he underestimated Cersei in a way that Margaery never would have. Margaery is a fatality of the High Sparrow underestimating Cersei.
So, it appears Dormer is saying Margaery's death was more a product of the High Sparrow's overconfidence than Cersei's ingenuity.
As far as fans being upset over the way in which Margaery died, it looks like Dormer totally understands the plight of every "Game of Thrones" viewer, saying,
I'd like to think that people will be sad to see the Tyrells unjustly blown to smithereens! As an audience member you spend so much time with these characters, you get to know them very well, and to have them so irreverently snatched from you and killed is really harsh.
However, Dormer also revealed her belief the deaths we mourn and struggle to cope with are what make the show so successful. She said,
That's what real life is and that's why 'Game of Thrones' is the powerhouse that it is. It's not scared to take away some of your favorite characters. It's always been brave, this show.
Apparently, Dormer also wasn't surprised to learn of her own character's death. She said,
I wasn't that surprised because dying on the show is an occupational hazard. I knew when I started shooting season 6 that it would be my last. It was lovely because it informed the whole way I enjoyed the season. I enjoyed being with the crew and the other cast members because I was aware that it was going to be my last year with the family.
Props to Natalie Dormer for being able to detach herself from her character so easily, but I'm going to mourn Margaery's death until at least Thursday.
Citations: 'Game of Thrones' Star Talks Latest Shocking Death: 'Dying on the Show Is an Occupational Hazard' (Us Weekly)