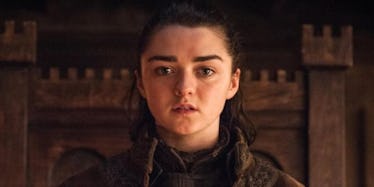 Someone Mashed Up 'Game Of Thrones' And "LWYMMD" And It Will Make Your Day
HBO
While Taylor Swift has already moved on from her first single "Look What You Made Me Do," to her second, "Ready For It," not everyone is so ready to let it go. When the single first dropped, on August 27th, it was just ahead of the Game of Thrones finale, and the pairing of the two together was a pop culture no-brainer. But now the internet has gone one better and created a Game of Thrones-"Look What You Made Me Do" mash-up of epic proportions.
This isn't the first time Westeros has gotten into the pop music game. These TV show characters edited together to make them recite the lyrics of various songs has been popular the last several years. Some other "hit singles" but those who star in the series include Gloria Gaynor's "I Will Survive." (Many in that video have no, adding to the irony.) They've also done "Ice Ice Baby" which we assume was meant to be an ode to Ned Stark's late greatsword, though at this point, it could probably be overlayed with footage of the Night King marching about and make just as much sense.
Here's their latest single burning up the Dragonstone charts:
Those who are far more into the pop music world than the fantasy ones on screen are convinced this song somehow relates back to either the whole Taylor Swift-Katy Perry feud, or the Taylor Swift-Kim Kardashian feud, or the Taylor Swift-Everyone Who Isn't Us Is An Enemy feud. (Seriously, Ryan Murphy, I think I just found your subject for Feud Season 3.) but for those of us who are more inclined to listen to a song for its own meaning, it's obvious who it's about: Arya Stark.
With all this evidence, can you really believe this song is about anything else? We can't. Let's break down how.
I Don't Like Your Little Games
Arya has never liked the Game of Thrones. If she ever heard Dany's break the wheel speech, she might even decide to go work for her as an executioner.
Don't Like Your Tilted Stage
None of the roles that she was made to play by the Faceless men worked for Arya, These were tilted stages where she had to pretend to be someone else in order to kill people she didn't very much care about, or worse, people who didn't really deserve to die. What sort of stage is that to work on?
The Role You Made Me Play Of The Fool
No, she don't like you.
She didn't like Littlefinger's perfect crime, or how he laugh when he lied. He said the weapon wasn't mine. It wasn't cool. No, she don't like you.
I Got Smarter, I Got Harder In The Nick Of Time
And if there's anyone who got smarter and got harder in the nick of time, it's the Stark sisters. Sansa especially, admitting at Littlefinger's trial that she's a slow learner. She'd nearly been taken in again, after learning the same lesson over and over of "Never trust Littlefinger."
As for Arya, she's the hardest there is now in Winterfell.
Honey, I Rose Up From The Dead, I Do It All The Time
Even Jon Snow can't compete with Arya's ability not to die. He's only done it once.
I've Got A List Of Names & Yours Is In Red, Underlined
I check it once, then I check it twice, oh!
She may have put Cersei off for now. But, sooner or later...or sooner... she'll be heading to King's Landing.
Ooh, Look What You Made Me Do
Sorry, Walder Frey and company. It's really all your fault. Next time, honor the rights of Bread and Salt.