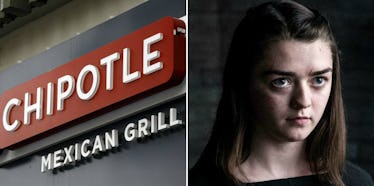 Chipotle Made The Most Epic 'Game Of Thrones' Pun With This Customer's Order
REUTERS/HBO
Everyone is pretty bummed out about the fact that another season of "Game of Thrones" has come and gone. Sure, the season six finale of "GoT," "The Winds of Winter," was about as satisfying as a series finale gets. But it only makes us miss the HBO hit more.
Any fan of "Game of Thrones" will tell you how much the show transcends modern pop culture. And we got a glimpse of that, thanks to a recent online Chipotle burrito order.
According to a Facebook post, a woman's friend ordered a Chipotle burrito online and put the order name as "A Meal Has No Name." If this isn't how Jaqen H'ghar orders online from Chipotle, everything I've ever known to be true is a sham.
In response to this "Game of Thrones" fan's online order, Chipotle responded by writing "Valar morgulis" on the burrito.
Yes, I'm aware it should be "morghulis." But the burrito makers are in a rush at Chipotle, so I think this is an understandable error.
According to the above Facebook post, this "Game of Thrones" fan also received a free Chipotle card with the burrito.
Because, well, why not?
Remember, folks: You can't take the Iron Throne and rule the seven kingdoms on an empty stomach.