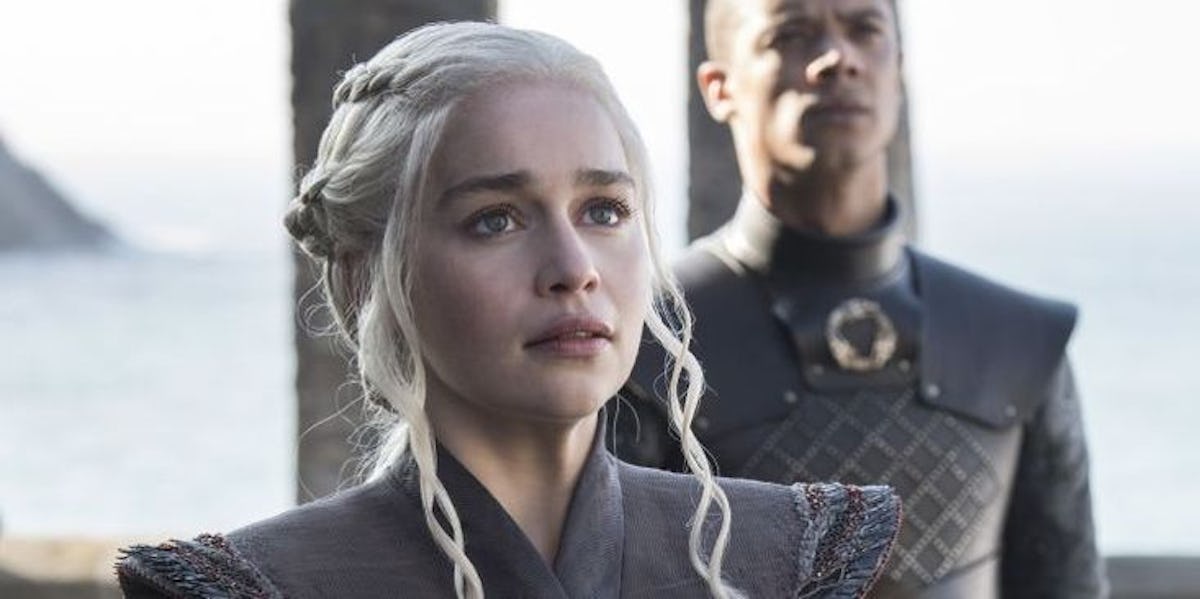 The First 'Game Of Thrones' Season 7 Reviews Are Here And Spoilers Are Coming
HBO
Last night, Game of Thrones had their Season 7 red carpet premiere in Los Angeles. (Well, actually, the carpet was blue, because of course it was.) Afterwards, those who were lucky enough to see the episode took to Twitter to freak out about how good it was. Let the hype begin!
The few outlets that wrote up spoiler-free impressions confirm this opening scene, with The Telegraph referring to the opening as "a swift massacre – without actual violence" and GQ say it was "an entirely unanticipated -- and beautifully serendipitous -- note."
For those who didn't get to see the Game of Thrones Live Musical tour that came through, the orchestra was on hand to play the theme song.
(And for those who note the Baratheon stag still sits over King's Landing, that's because these are placeholder credits. No one sees the new credit sequence until Sunday.)
The actors attempted to be helpful, but not too helpful:
And Liam Cunningham promised we'll be shocked "but not too shocked." Well, at least he wasn't.
For those who wanted to see how their favorites dressed, Theon stood out the most from the men's side of the carpet. (Though Nikolaj Coster-Waldau gets points for staying on-theme in ice blue.) Kit Harington, please put on socks next time.
As for the ladies, Sophie Turner's dress was a bit perplexing, Maisie Williams was sleek in green, while Gwen Christie went with the Ice Princess theme.
But the biggest spoiler of all? This guy:
Everyone has been wondering when the day would come that Gendry would put down the oars and dock his boat back into our lives. Though it is not unheard of for characters who just died to turn up on the red carpet the next year, it would be very unusual for someone who hadn't been seen since Season 3 (and hasn't attended a single red carpet since) to suddenly turn up like this. Unless, you know, he was back this year.
I suppose that's proof we can count on it.
Game of Thrones Season 7 will debut for the rest of us on Sunday, July 16 at 9 p.m. ET, on HBO.