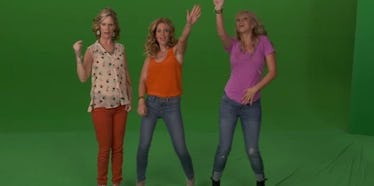 DJ, Stephanie And Kimmy Whip And Nae Nae In New 'Fuller House' Promo (Video)
On February 26, our lives will be changed forever. Thanks to the creative minds at Netflix, one of the greatest family sitcoms of the '80s and '90s will hit our binge-watching queues once again as "Full House" makes its return as "Fuller House."
According to a press release, most of the original cast will star in the series including Bob Saget (Danny Tanner), Candice Cameron-Bure (DJ Tanner), Jodie Sweetin (Stephanie Tanner), Andrea Barber (Kimmy Gibbler), Lori Loughlin (Aunt Becky Katsopolis), John Stamos (Uncle Jesse Katsopolis), Dave Coulier (Joey Gladstone) and more.
Notably missing will be the Olsen twins, Ashley and Mary-Kate, who rose to fame playing the role of Michelle Tanner, the youngest of the three daughters on "Full House."
It's been two full decades since the last episode of the original series aired, and the Tanner's home is full again as DJ returns home following her husband's death to enlist the help of her sister and best friend in raising her boys.
Sounds eerily familiar, no?
The most recent promo for "Fuller House" shows Candice Cameron-Bure with her "Fuller House" sister Jodie Sweetin and best friend Andrea Barber doing the Whip and Nae Nae backstage.
As expected, Kimmy Gibbler is as awkward as ever.
Check out the video above, and don't miss your invitation to take a seat on the Tanner's couch February 26 in the first teaser for "Fuller House" below.
Citations: Fuller House First Look: Kimmy Gibbler, Stephanie and DJ do the Nae Nae (E!)