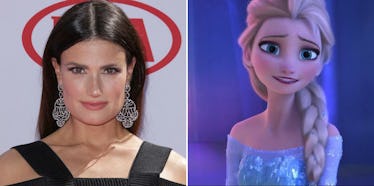 'Frozen' Star Idina Menzel Reveals How She Feels About Elsa Having A GF
REX/Shutterstock and Disney
God bless everything, Idina Menzel supports the #GiveElsaAGirlfriend movement for the "Frozen" sequel.
Some of you might be like, "Wait, what? Why would Elsa from 'Frozen' have a girlfriend?"
That's fair. Basically, there's been this online campaign going around to make Elsa, one of the few Disney ladies to not have a boyfriend, the first LGBTQ+ Disney Princess in the next "Frozen" movie.
This would be an incredible chance for some representation of queer ladies in mainstream culture, because it doesn't get more mainstream than Disney.
And, as we all know, Idina Menzel is awesome, so she totally supports the idea of a gay Elsa.
While at the Billboard Music Awards on Sunday, the Broadway star spoke to Entertainment Tonight about the campaign.
Idina said,
I think it's great. Disney's just gotta contend with that. I'll let them figure that out.
YESSSSS! Obviously, like she said, Idina doesn't have any control over this decision. But, her support is definitely a huge step in making this idea happen.
Fans and supporters of the movement were thrilled by the "Frozen" star's support, and for some, it means the world.
#giveelsaagirlfriend because you support LGBT+ rights!! Even Idina Menzel approves of it! MAKE IT HAPPEN — Nyah:3 (@nyahhowlester) May 5, 2016
Your move, Disney. You have the opportunity to do something really great here.
Citations: Idina Menzel Responds to #GiveElsaAGirlfriend Campaign for Frozen Movie Sequel (Cosmopolitan), EXCLUSIVE: Idina Menzel Reacts to 'Frozen' Petition to Give Elsa a Girlfriend: 'I Think It's Great' (Entertainment Tonight)