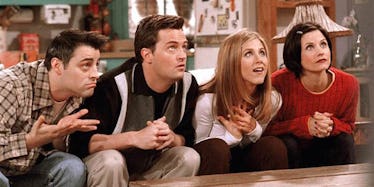 This Insane 'Friends' Alternative Episode Is 'The One Where Chandler Dies'
NBC
Think you know everything there is to know about "Friends?" Think again.
One super fan is making headlines after creating what is being called the "lost" episode of "Friends." The 14-minute episode, which was uploaded to YouTube by the user DogFood, starts off just like any other episode of "Friends" -- but with a twist.
This particular episode is titled "The One Where Chandler Dies." If you're a diehard "Friends" fanatic, you know that this isn't a real episode (but it probably should be).
The opening sequence shows Chandler fighting his way through the bustling streets of New York City as he rushes to get to the famous couch that all of the cast members pile onto once the "I'll Be There For You" theme song wraps up.
As you might be able to expect from the fan-made episode's title, Chandler never makes it to the couch. Instead, the sequence ends with an empty seat next to Ross.
The video description reads,
A loving mashup offering an alternate ending to Friends that's at once very bleak, but also existential, spooky and uplifting.
Spooky indeed! Just in time for Halloween.
Somehow, this genius of a YouTuber was able to use footage from across 10 seasons of the show to create one epic episode that involves Rachel, Monica, Joey, Ross and Phoebe all attempting to live life without Chandler.
Throughout the episode, the unthinkable happens (time and time again) as Monica understandably turns to substance abuse to cope with the loss of Chandler.
Monica even goes as far as to sleep with Joey who is now Ross' best friend in place of Chandler.
That's when things get messy as Chandler, who's watching all the madness transpire from heaven, attempts to haunt his "friends" after returning to the city as a ghost.
I'll admit, this makeshift episode makes me wish "Friends" was still a thing.
Check out the clip above for a closer look!
Citations: Watch the Lost Friends Episode Where Chandler Dies and Lives On As a Ghost (Cosmopolitan)