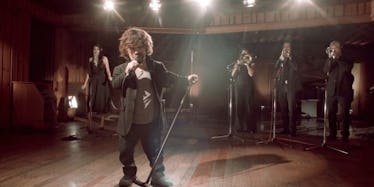 FOX Compares New Singing Show To 'GOT' But "With Better Singing & Less Nudity"
BBC
The singing competition wars are heating up again on network television, as American Idol returns to the airwaves on ABC. In response, NBC has beefed up The Voice with Idol alumni, and FOX -- which hosted Idol during the show's heyday but was spurned on the return by Freemantle Medi -- is developing its own show. But perhaps it's going a bit far with the hype as FOX president of alternative entertainment Rob Wade tried to suggest said new show The Four, compares to Game Of Thrones. What now?
Game of Thrones has certainly inspired their share of shows since becoming the biggest thing on TV -- from medieval period pieces (The White Queen) to high fantasy TV shows (MTV's Shannara) to high end productions based on beloved genre book series (Outlander, American Gods) to shows where they kill everyone who's likable (The Walking Dead). Heck, one could even say they paved the way for Galavant, which was a musical medieval-period comedy. But a reality musical competition? Will Joffrey be sitting at the judge's table commanding the headsman to kill off competitors for forgetting the lyrics?
Not quite. Instead, the comparison was supposed to conjure up the mid-round bloodbath segments of the Idol calendar year of old, where 36-48 contestants would brutally be cut down to 10-12 in a very short period of time.
As  Deadline reported,
Rob Wade, president of alternative entertainment at Fox Broadcasting Company, insisted The Four is nothing like American Idol, calling it as the most 'pure, clean format' for a singing competition he's ever seen and describing it as 'Game of Thrones with better singing and less nudity.'
Unlike Idol, which starts with hundreds of thousands of contestants from around the country, and then takes five months to whittle down to the final contestants, The Four "cuts to the chase." The show starts with four contestants, who are then challenged every week by new auditioners, who send tapes in from home, to compete for their slot.
As the season progresses, the original four contestants can be out performed at any time and replaced. The winner then becomes one of "The Four" and must defend their slot. Those who make it to the end of the run -- which could be anyone from the original "Four", all the way to a lucky random challenger who happened to win the chair the week before -- then perform against each other to determine the ultimate winner.
In terms of a cut-throat format, this is certainly not your Gen Xer's Idol of 2002. But it's also not the kinder, gentler The Voice, which partly beat out Idol because audiences were no longer drawn to shows that were as mean.
But it is also an open question if musical competitions are what audiences are looking for at all. FOX CEO argued at the presentation that Idol was no longer profitable, which is why they canceled it in 2015, and why they originally felt bringing it back in 2017 was too soon when Freemantle suggested it. Comparing their new show to the current "Ratings Death Star of TV," a title Idol once held, is only a reminder that chances are neither ABC's Idol, nor FOX's The Four will live up to the numbers of yesteryear.