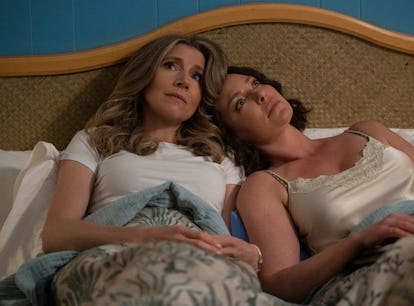 Here Are All The Big Theories About How Firefly Lane Will End
Netflix
Firefly Lane is one of Netflix's more interesting forays into adapting a contemporary novel for television. Like with The Witcher, it took a reasonably linear, straightforward tale and mixed up the timeline to create better cliffhangers. Instead of three seasons, the show shot two seasons and broke the second one into two parts, creating more suspense. And these Firefly Lane Season 2, Part 2 theories prove that no one is entirely sure how Netflix will mix things up next.
Warning: Spoilers for Firefly Lane Season 2, Part 1 follow. Viewers have good reason to be theorizing that Netflix will change the Firefly Lane ending that novel readers know. The show has already made significant adjustments. From the event that sets off Kate and Tully no longer speaking to each other to the details of Kate and Tully's relationships with partners and parents, the adaptation has departed from the original novel in significant ways.
However, the deviations from the path traveled by the book have not changed the results. Kate and Tully's love triangle with Johnny was altered, but Kate still married him. Kate stopped talking to Tully over a car crash, not an episode of live television, but Tully still lost her show and went to Antarctica. And Kate still was diagnosed with an aggressive and rare form of breast cancer while Tully was out of the country.
So, how will it all end? Here are a few ideas.
Firefly Lane Season 1 and Season 2, Part 1 are streaming on Netflix. Season 2, Part 2 will arrive June 8, 2023.