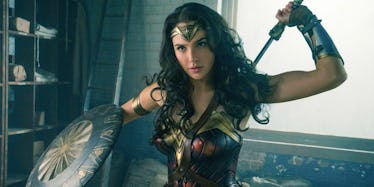 'Wonder Woman' Could Be The First Comic-Book Film Nominated For Best Picture
Atlas Entertainment
Patty Jenkin's Wonder Woman has already made cinematic history over and over again. Now, Warner Bros. has its sights set on yet another groundbreaking milestone: an Academy Award. No comic book film has ever been nominated for Best Picture or Best Director before, but according to a new report from Variety, the studio has launched an ambitious campaign for both of those categories to get a Wonder Woman Oscar nomination.
Variety reports that though Warner Bros. has made no public announcement of an Oscar campaign, the studio is having internal discussions about launching a groundbreaking campaign to make Wonder Woman the first superhero film to get a Best Picture nomination. Other superhero films have come close to the nomination —  The Dark Knight (2008) was nominated for eight Academy Awards in other categories, as well as a Critic's Choice Award for Best Film, and Deadpool (2016) was nominated for both the Golden Globes and Critic's Choice top film categories. But neither film wrangled a Best Picture nomination from the academy.
The studio is also rumored to be pushing for a Best Director nomination for Patty Jenkins, which would be another first for the comic book films — despite their critical acclaim, Christopher Nolan was never nominated for The Dark Knight trilogy. Additionally, only four women have ever been nominated for Best Director, the last being Kathryn Bigelow for The Hurt Locker seven years ago, in 2010. Bigelow is the only woman to ever win the Oscar for Best Director.
Jenkins has yet to sign on to direct Wonder Woman 2, which got a Dec. 13, 2019 release date from Warner Bros. earlier this week. The studio is likely still negotiating with Jenkins on this, and the promise of an Oscar nomination campaign could be a fairly convincing argument. Jenkins recently announced a new project with Wonder Woman actor Chris Pine, a limited TNT six-episode drama, One Day She'll Darken.
Whether the academy will be convinced by this campaign remains to be seen. But with the recent push to get a younger, more diverse academy, there is certainly hope.