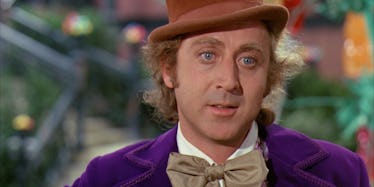 'Willy Wonka' Is Getting Another Reboot, And It Seriously Needs To Stop
Wolper Pictures Ltd.
Hello, Hollywood? Are you trying to make Gene Wilder's tragic passing and Johnny Depp's fall from grace even more brutal on the public than they already are?
BECAUSE, IF SO, YOU ARE SUCCEEDING WITH RECKLESS ABANDON, HOLLYWOOD.
WITH RECKLESS ABANDON.
"Fantastic Beasts And Where to Find Them" producer David Heyman and Warner Brothers are teaming up once again. This time, they've chosen to revisit Willy Wonka, a character already played to perfection by Wilder and played to whatever Johnny Depp was doing that year by Depp.
Variety reports the film will focus on Wonka's "early adventures" without dipping into origin-story territory. Michael Siegel, manager of the Roald Dahl Estate, will join Heyman, Kevin McCormick will act as executive producer and Simon Rich ("The Secret Life of Pets") will write the script.
UGH. WHY DO WE EVEN NEED A NEW SCRIPT AT THIS POINT? JUST USE ONE OF THE OLD ONES.
I'm going to pay to see this movie either way. I'm a slave to reboots. We all are. We see them in order to appease our raging nostalgia boners and the rules of supply and demand just keep those remakes — and our aforementioned boners — coming.
Perhaps producers will surprise us with an all-female cast, inciting the same level of MRA outrage this summer's relaunch of "Ghostbusters" did prior to its release.
Twitter hasn't exactly lit up over the movie just yet, but those starting the conversation agree there's no major need to revisit this story.
@ScarletteDrake nothing will beat Gene as Willy Wonka. I don't know why they keep trying to remake it. — mrs. johnson (@mrsdakotamayi) October 19, 2016
In his final years, Wilder himself even expressed his disdain for the existing retelling of the tale.
During a 2013 interview with Robert Osborne at the 92nd St. YMCA, the actor said,
I think it's an insult... Johnny Depp, I think, is a good actor, but I don't care for that director [Tim Burton]. He's a talented man, but I don't care for him doing stuff like he did.
You hear that, Hollywood? We're good.
Citations: 'Willy Wonka' New Film in the Works From David Heyman and Warner Bros. (EXCLUSIVE) (Variety)