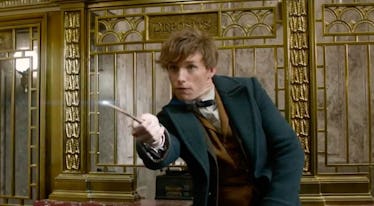 New 'Fantastic Beasts' Trailer Includes An Epic 'Harry Potter' Connection
Warner Bros.
If you thought the magic of "Harry Potter" was over, think again, Muggles.
It's not over, it's never over, because as long as there's money to be made this magic will live on forever.
The latest "Harry Potter" venture is the prequel film, "Fantastic Beasts and Where to Find Them," with a screenplay written by JK Rowling herself.
On Wednesday, a new full-length trailer debuted on "The Ellen DeGeneres Show," and it looks SO GOOD!
(Like many Potterheads, I didn't want to be excited for this film, but dammit, I can't help it. It just looks so amazing.)
Eddie Redmayne — aka Newt Scamander — is an English wizard who visits New York City in 1926.
He accidentally lets loose some magical creatures on the city, befriends a New York Muggle (or "No-Maj," as the Americans say), and chaos ensues.
This much we already knew from previous trailers, but this new trailer brings a ton of new footage and information.
The biggest thing was the mention of Gellert Grindelwald.
Also, did someone mention Grindelwald? #FantasticBeasts @jk_rowling pic.twitter.com/WhPBvh0F4N — Callum Leslie (@PCKL) September 28, 2016
In the original books, Grindelwald is Dumbledore's former friend and lover who turns evil, and is essentially the Voldemort of the 1920s and 1930s.
Around the 1:45 minute mark, Carmen Ejogo, who plays magical president Seraphina Picquery, says,
This is related to Grindelwald's attacks in Europe. This could mean war.
AHHHH SHE MENTIONED EUROPE! AND GRINDELWALD! THAT'S WHERE DUMBLEDORE IS! IT'S ALL CONNECTED!!!
Also, we get to see so many magical beasties.
LOOK AT THIS GUY! He's such a cute jewelry thief!
And how 'bout this FREAKIN' DRAGON MOMMA AND HER CUTE LIL' DRAGON BABY!
Plus, a HIPPOGRIFF! All the Buckbeak feels!
Other things to note from the trailer:
1. We get glimpses of stars Jon Voight, Ezra Miller and Colin Farrell, all of whom have roles in the film.
2. There is a part where the Muggle/No-Maj police force go head to head with the magical folk, and it becomes a guns vs. wands moment.
We haven't seen a gun in "Harry Potter" since Uncle Vernon's shotgun in "Sorcerer's Stone," and it was definitely a shock to see now.
3. That very cute moment between Eddie Redmayne and Katherine Waterston (who plays an American witch named Porpentina Goldstein), re: the Muggle vs. No-Maj debate.
Porpentina: You wiped their memories, right? The No-Majs? Newt: Sorry, what? Porpentina: No magic? The non-wizards! Newt: Sorry, we call them Muggles.
Damn straight we do, Newt. Damn straight.
"Fantastic Beasts and Where to Find Them" hits theaters November 18, 2016.
Citations: First Look! 'Fantastic Beasts and Where to Find Them' Exclusive Trailer (EllenTube)