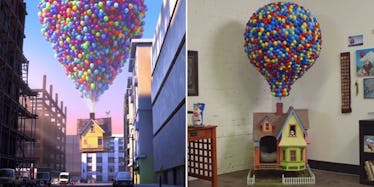 Guy Obsessed With 'Up' Gets A Replica Of The House Made For His Dog (Video)
In a doghouse seemingly suspended by tiny balloons, the fluffy mutt of one very dedicated "Up" cosplayer has no worries.
The elaborate house, based on the iconic pastel Victorian from the Pixar and Disney film, is the project of designer Tim Baker and AWE me's "Super-Fan Builds" YouTube series.
In the channel's newest episode, "Up" fan Steve Minty gets a custom home for his pooch, Dug.
Thousands of fiberglass balloons and homemade shingles later, Dug's new pad is complete. There's even a tiny Carl Fredricksen peering out the window.
A daytime dog snooze has never looked quite so magical.