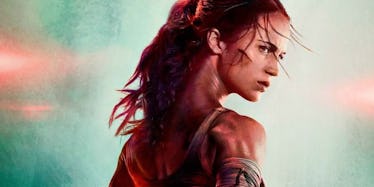 The First 'Tomb Raider' Trailer Is Here And Alicia Vikander Is Such A Badass
Warner Brothers
Every since video games went from 8-bit images with little midi soundtracks to digital visuals that would some day obviously be able to compete with movies, Hollywood has been trying to figure out how to co-opt them before videos games did the co-opting. From the earliest Super Mario Bros. film in 1993 to last year's Assassin's Creed, movies are desperate to conquer the video game world. Now comes the first Tomb Raider trailer, starring Oscar winner Alicia Vikander, and all the badassery one would expect with such a film.
This is not Hollywood's first stab at the Tomb Raider series, which was famous from the get-go in the mid '90s for their female heroine avatar, known as Lara Croft, who was, well, extremely well endowed for what she was supposed to be. The first attempt at making a Tomb Raider move came in 2001, starring Angelina Jolie, back when she was still dating guys like Billy Bob Thornton and wearing vials of blood as jewelry because it was cool.
Jolie has moved beyond that now and found her feet in the industry as a director. Meanwhile, Hollywood is working on trying to get Tomb Raider closer to right this time. Let's check out the trailer.
Well, one can definitely say that the last 20 years have made a difference. While Jolie was a pin up girl of a Lara Croft designed to be staring out from the posters of male dorm rooms, Vikander is at least given the chance to look like someone who, well, actually raids tombs for a living.
It helps that this movie is based on a more updated version of Tomb Raider, the rebooted version released in 2013. (Reboots! They're not just for movies and TV anymore!) Vikander is also given a stellar cast to work with, including Walton Goggins, Daniel Wu, and Dominic West. And the action -- and it is mostly action -- certainly makes her look like a badass.
But the issue, as is the issue with all of these movies, is that the trailer feels less like a trailer for a movie, and more like the live-action version of what are known as "cut scenes." Those "move the plot along" breaks between game play, where increasingly-realistic CGI characters with increasingly famous voiceover actors speaking for them explain what is happening before you move to the next stage of the game.
This was the problem with Assassin's Creed last year, which also had a stellar cast, from the divinely Shakespearean actor Michael Fassbender, and contained a virtual who's who of British and European talent, from Oscar winner Marion Cotillard to Jeremy Irons, Harry Potter's Brendan Gleeson, the great Charlotte Rampling, and Michael K. Williams.
It's not that these movies are exactly bad per se -- we aren't talking the Lord of the Ring lite drivel of Warcraft or anything. It's just that Hollywood's great fear that video games would devour them, if they didn't do the devouring first, misunderstood the genre completely. Video games, like Tomb Raider, are supposed to be interactive, not something you sit back and watch passively.
Those who are fans of the game want to move the avatars on the screen around, which movies don't allow. Those who want to watch movies, are confused why they are basically spending $20 to watch a playthrough of a game with a pre-determined "good" ending.
Perhaps one day, Hollywood will crack the code of making movies based on videos games sing. Perhaps this movie is it, and the trailer isn't giving us a hint of it. But while it's fun to Alicia Vikander run around and be a bad ass heroine out of the video game, chances are, the second Tomb Raider will be the same blip on her resume it was for Jolie.