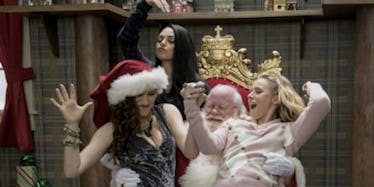 'A Bad Moms Christmas' Trailer Just Dropped And We're Actually Excited For Winter
STX/YouTube
We've got a lot of movies to look forward to this holiday season, Jumanji: Welcome to the Jungle, Star Wars: The Last Jedi, and Pitch Perfect 3 will all be hitting theaters later this year.
Perhaps no movie will bring the spirit of Christmas to life quite like the mom-filled comedy A Bad Mom's Christmas, though.
That's right, after the wild success of last year's summer hit Bad Moms, a sequel has always been in the works. Lucky for us, it's finally a reality.
A Bad Mom's Christmas is coming out in early November. TBH, the trailer already has us excited for all kinds of raunchy, holiday debauchery. I'm already cackling over Kathryn Hahn's character saying she "waxed 39 p***ies" at her salon during the crazy holiday season.
All three of the original bad moms are back to bring us more filthy comedy and, of course, they are on their worst behavior as they decide to give the middle finger to the holiday season.
This time around, there's a twist, though: Their mothers show up unexpectedly and add to the chaos and drive the core three a little insane.
After the group of bad moms decides to give up on the craziness of the Christmas season and relax, their mothers, played by Susan Sarandon, Christine Baranski, and Cheryl Hines, show up to remind them that's not how it works.
When asked by her mom where her Christmas tree is, Kunis's character, Amy, says,
I didn't wanna waste time Christmas tree shopping, I actually just wanted to enjoy Christmas this year.
To which Christine Baranski's character says,
Amy, you're a mom; moms don't enjoy, they give joy. That's how being a mom works.
Clearly, we're in for plenty of laughs, tons of quotable one-liners, and probably some sweet, holiday-themed moments that'll make us say "Awww" and feel all warm and tingly. I guess until November we'll just have to keep enjoying the trailer.