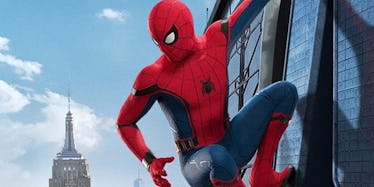 7 Spider-Man Costumes For Women To Help You Slay Halloween This Year
Marvel
Halloween is right around the corner, so it's about time you start getting your costume in order. If you want to do something pop culture-related from the year, and not Game of Thrones, then your best bet might be to go with everyone's favorite friendly neighborhood web-slinger himself... or should I say herself. Because this Halloween you can take the "Man" out of Spider-Man, and wow your friends with a killer gender-swapped version of the superhero. There are a bunch of Spider-Man costumes for women that will make sure you're the queen of the night. Here are some spidey-riffic ideas, ranging from quick, simple costumes to more unique takes.
The easiest way to quickly get a good Spider-Man costume with no fuss is to just order one online. EBay has a pretty impressive range of Spider-Man costumes for women ranging in different styles and prices. The cheapest and most basic one I can find is this jumpsuit, which is selling for a little over $18 right now (although that sale may end when you view it yourself). That is definitely the easiest and cheapest way to get a passable look, but if you're willing to spend a bit more, you can get a fuller costume. This more fitted Spider-Man jumpsuit is going for around $50, as is this one that also includes a mask.
Spider-man Jumpsuit, $16, eBay  |  Fitted Spider-man Jumpsuit, $51, eBay  |  Spider-girl Liquid Metal, $67, eBay  
And the good thing about Spider-Man is that you can also choose to embrace your dark side by going for a Venom-inspired look. EBay also has some really cool costumes of when Gwen Stacy gets infected by the evil Venom symbiote and embraces some dark powers. This sleek take on Gwenom is sure to be a huge hit at parties, but you will have to shell out about $100 to get the costume. And this darker, hooded Gwenom costume also goes for a little over $100, but it looks to be worth every penny.
Sleek Gwenom Suit, $101, eBay  |  Hooded Gwenom Costume, $102, eBay  
While there are plenty of women Spider-Man costumes out there for the picking, you also have the option of channeling one of the web-slinger's leading ladies. But since Spidey's love interests don't get a super-suit, you'll have to put together the ensembles yourself. It may be a bit more work, but on the bright side: it's more likely that you'll have some of these clothes already in your closet, or if not then at least they're much more re-wearable than a Super-Man suit.
Let's start with Mary Jane Watson. Now, all you really need to pull of that look is a red wig, since she is most defined by her bright-red hair. Pair that with an outfit you'd normally wear and maybe throw in a few spider-related touches, and you should be good to go. Of course, the recent Spider-Man: Homecoming gave Mary Jane a major makeover. To go as Zendaya's more jaded, sarcastic version of the role, all you really need is a curly wig and a black jacket. Oh, and a generally skeptical/pissed off look.
Peter Parker's other leading lady was Gwen Stacy, whom Emma Stone portrayed in the Amazing Spider-Man films. Again, the most important thing with this costume is the wig: Gwen Stacy is known for her platinum blonde hair. She also has a bit of a preppier style than MJ, so pair that with a nice fitted sweater or jacket and you've got it.
Of course, there are also scores of iconic villains from the Spider-Man universe you could also portray, from the Green Goblin to the most recent to make his big-screen debut, the Vulture. Thanks to Homecoming's massive success this year, Spider-Man will be on everyone's mind, so have fun coming with with the perfect costume for you and you'll be sure to knock Halloween out of the park.
Check out the entire Gen Why series and other videos on Facebook and the Bustle app across Apple TV, Roku, and Amazon Fire TV.