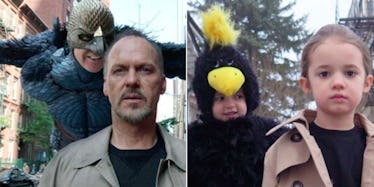 Adorable Sisters Recreate Iconic Scenes From Oscar-Nominated Movies (Photos)
Awards season is officially over, but that doesn't mean the Internet is through having its Oscar-related fun.
As such, a couple of adorable sisters recreated iconic scenes and posters from this year's Oscar-nominated movies.
Sophia and Sadie Storino dressed up as characters from films such as "Birdman," "Boyhood," "The Grand Budapest Hotel" and "Whiplash."
They even made the props themselves, with the help of their mother, Maggie.
These little girls are as cute as can be and actually do some pretty clever reimaginings of these noteworthy films.
The photos were originally posted to their Tumblr, "Don't Call Me Oscar," and can be seen below.
"Selma"
"American Sniper"
"Whiplash"
"The Grand Budapest Hotel"
"Boyhood"
"Birdman"
"The Imitation Game"
"The Theory of Everything"
Citations: Adorable Sisters Recreate Scenes From Oscar Nominated Movies (Design Taxi)