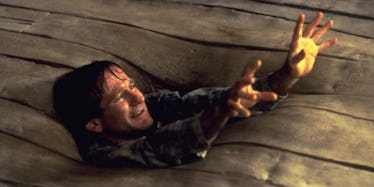 Robin Williams' 'Jumanji' Character Will Live On In The Upcoming Sequel
TriStar Pictures
Robin Williams may be gone, but his spirit lives on in his movies. And one of his most beloved movie roles is about to be revisited in this year's Jumanji sequel.
Though the new movie will diverge in a number of ways from the original 1995 movie, sequel star Jack Black confirmed there will be plenty of references to Alan Parrish, Robin Williams' character from the original movie who wound up trapped in the jungle of the magical board game for 26 years.
As its title suggests, Jumanji: Welcome to the Jungle will be primarily set within the magical jungle Alan Parrish was forced to survive in, and Jack Black revealed to The Hollywood Reporter Alan has left behind some tools to help the new adventurers.
We're exploring this jungle and trying to conquer the game; it's life or death. But while we're there, we find clues left behind by [Williams' character Alan Parrish]. He built up a full-blown jungle house, similar to a Swiss Family Robinson situation. It's like he's there helping us without actually being there.
It's also been revealed that the new movie will include footage of Williams as Alan in the first movie during a flashback scene.
But aside from these nods to Robin Williams, moviegoers probably shouldn't expect too many references to the original Jumanji. From what we know about Welcome to the Jungle so far, it sounds like it will be almost unrecognizable from the first movie.
For one thing, the new movie will be set primarily in the magical jungle rather than suburban New Hampshire. It will also reimagine Jumanji as a video game rather than a board game, and none of the original cast is signed on to appear.
Jumanji star Kristen Dunst even admitted last week that she wasn't aware there was a sequel being made. She said she'd be down for a cameo, but also revealed she hasn't been contacted yet.
Jumanji: Welcome to the Jungle will star Jack Black, Dwayne "The Rock" Johnson, Kevin Hart, Karen Gillam, and Nick Jonas, and it will hit theaters on December 22.