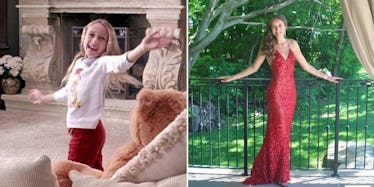 The Actress Who Played Regina George's Sister Is All Grown Up (Photos)
There's a quick bit in "Mean Girls" in which Regina George's little sister is shown dancing along to Kelis' "Milkshake" music video.
It's a funny bit because the little girl, Kylie George, is being exposed to something fairly inappropriate at a young age.
That little girl is now all grown up. Her real name is Nicole Crimi and she is 18 years old.
She acted in a few TV movies after her appearance in "Mean Girls," but since, more or less, abandoned acting.
Crimi focused more on her studies and gained a degree from McMaster University in Ontario, Canada. She also spent time working as an artist.
It seems Crimi has come a long way from shaking it to Kelis back in 2004.
Here's what she looks like now:
Here she is in all her "Milkshake" glory:
Citations: Heres what Nicole Crimi who played Regina Georges little sister in Mean Girls looks like now (Metro)