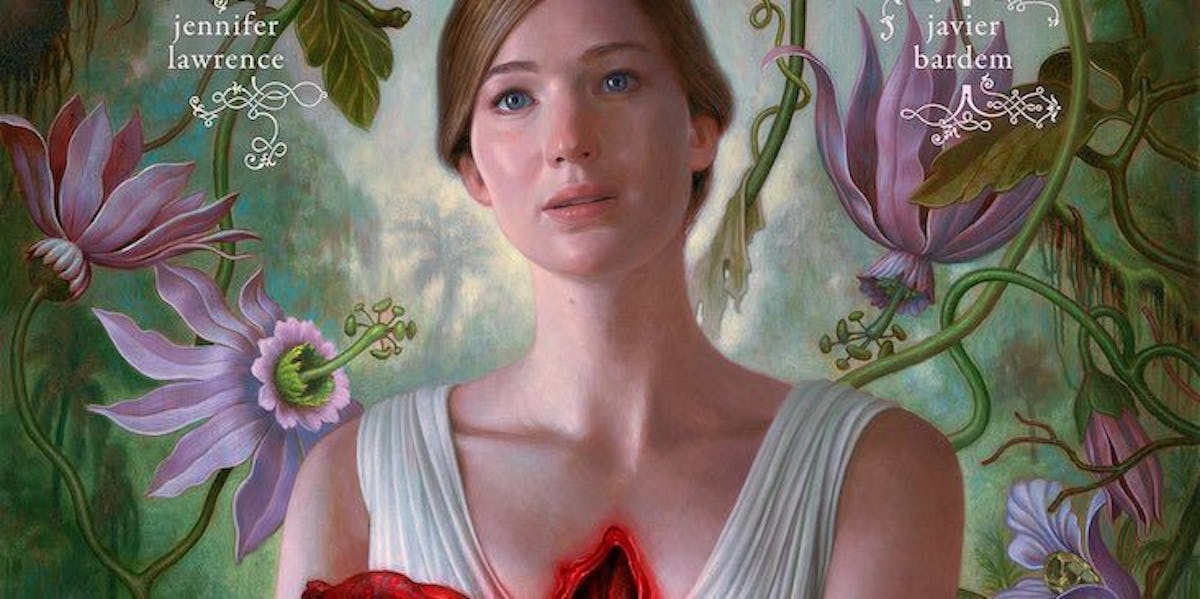 They Literally Gave Out Prayer Cards At The 'mother!' Premiere, So Prepare To Be Scared
Twitter
It's that time of year again. No, not horror movie month, that's still a few weeks away. This is the time of year where the first Oscar bait movies hit the screen, with the longshots starting out early in hopes of building momentum, while the surer things come closer to Christmas. In that spirit, Darren Aronofsky newest work has premiered at the Toronto Film Festival on the way to this weekend's limited release. Apparently, the production thinks they need all the help they can get because it featured mother! premiere prayer cards.
The film mother! has kept the plot tightly under wraps, but from the trailer, looks a little less like Oscar bait and a bit more like Halloween fare, with Jennifer Lawrence wandering around a house in a nightgown looking lost and scared, weird pools of blood, and creepy camera shots featuring such luminaries as Ed Harris and Michelle Pfeiffer, while her husband, Javier Bardem, smiles mysteriously at the camera.
What we do know is that Bardem is a writer/artist, for whom Lawrence is trying to make a "paradise" sort of home, and somehow it's gone all wrong. And now the movie is giving out a "mother's prayer" on cards to all at the festival who saw the first showing.
For those who can't make it out, the card reads:
our mother who art underfoot hallowed be thy names they seasons come, thy will be done within us, around us, thank you for our daily bread, our water, our air and our lives and so much beauty; lead us not into selfish craving and the destructions that are the hungers of the glutted, but deliver us from wanton consumption of thy vast but finite bounty, for thine is the only sphere of life we know, and the power and the glory, forever and ever, amen
What kind of twisted up movie is this?
So far, one that seems to be considered one of the most intense movies of the year. But note that though the trailer seems to suggest a horror movie on par with The Shining, or perhaps a gaslighting terror of Rosemary's Baby, instead most are simply letting it wash over them as an experience.
One should go to an Aronofsky movie expecting at least some sort of intense experience. This is, after all, the same guy whose debut movie Pi was about the descent into numerical madness while his last attempt to win an Oscar was for Black Swan, a movie about the descent into artistic madness. Madness and intensity, you see, come with the territory.
But the most interesting series of tweets about it suggests that instead, this is less a horror movie than a massive plot twist. Audiences get the build up of the trappings of horror, from the religious aspects of handing out these cards, the tone of the trailer, and the blood and gore soundtrack... only to discover it's quite a different tale that's it's trying to tell.
That's an interesting premise, which is why it probably belongs in the September releases along with some of the other longshot Oscar contenders this year. While for some people, a movie that bait and switches on the audience, especially if well done, can be a fantastic movie going experience.
But Oscar voters are the types who prefer their movies to be what they say they are. The last thing they want is for those who haven't seen the movie to think the Academy is rewarding one type of movie, when in fact, it's rewarding something very different. We know what Moonlight is as a movie, we knew what Spotlight is about. Bait and switch? Let's save that for Halloween.
mother! arrives in theaters this Friday, Sept. 15, 2017.