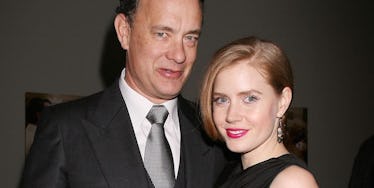 The Oscars Accidentally Nominated Amy Adams And Tom Hanks, Then Took It Back
REX/Shutterstock
The Oscars are your boyfriend.
You met him when you were still young and optimistic about love.
He was older and seemed like he knew everything about the world.
His opinions rang like fact.
You respected him for years, but as you matured, you started seeing the cracks.
He started too many sentences with, "OK, I'm not racist, but like…"
He let Stacey Dash come to one of your parties. She gave a speech. Nobody liked it.
He made sloppy mistakes and momentarily considered "Sully" some of Tom Hanks' best work, when you know full well the real star of that film was Laura Linney's bangs.
You know you need to end it with him, but his birthday is next month and the timing feels heinous.
Still, he's not the man you thought he was, and this latest fuck up, while hardly as rough as years before, further proves how badly you need to move on.
The 2017 Oscar nominations were announced Tuesday morning, and fans quickly noticed a difference between the list on the Academy's official website and its Twitter account.
The Oscars site listed Tom Hanks as a contender for Best Actor.
It also listed Amy Adams as a contender for Best Actress.
Oddly, neither Amy nor Tom made the Academy's Twitter versions of these lists. In fact, the tweet featuring the Best Actress nominees listed "Loving" actress Ruth Negga in Amy's place.
Sadly for Amy and Tom (relax, they both have Oscar noms under their very expensive belts already), the Twitter announcement was accurate, while the official website's announcement was a loose pile of runny sewer lies.
In a statement released to Refinery29, Disney/ABC Television Group's Editorial Chief of Communications Ryan Jackson apologized for the confusion on behalf of ABC.
He stated,
This morning, in an attempt to release breaking news as announced, ABC Digital briefly posted inaccurate nomination information on the Oscar.com website. The nominees announced by the Academy on Twitter were accurate. ABC quickly identified and corrected the errors. We apologize to the Academy, press and fans for any confusion.
Ugh, babe. It's fine. Let's just go to bed.
Citations: The Official Oscars Website Just Made A Really Awkward Mistake (Refinery29)