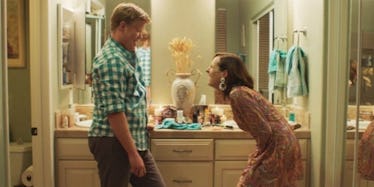 The Best Netflix Movies To Watch Over Break When You're Sick Of Your Family
Park Pictures/Gettin' Rad Productions
Come 'ere. Get in here. I know, I know. Winter break is generally more emotionally taxing than it is a "break" of any kind.
Sure, you get to drain your remaining vacation days, but that time off isn't spent getting high and eating Seamless alone while you catch up on "Planet Earth II" like you'd dreamed it'd be.
Instead, you're headed home to introduce your Columbian boyfriend to your family while you pray your one racist uncle keeps the Trump-talk to a minimum (shoutout to my sister. Hope this goes well next week).
Your friends will be miles away, but your true, chosen family ~Netflix~ will be there for you all break long. Watch these titles if you're looking for an escape.
If you're in the mood to solo-celebrate the holidays: "Last Holiday" (2006)
This movie is goddamn hilarious and offers the level of escapism only a film in which Queen Latifah eats shrimp cocktail on a plane can.
It's a simple formula that works every time: Person is given [X] weeks to live, person experiences their wildest fantasies, person learns valuable lesson, person eats shrimp cocktail on a plane.
Also, there's a 45-minute scene (it feels like 45, but in a good way) of Queen Latifah just runaway snowboarding down the side of a mountain. It's amazing. It's spectacular. I laughed out loud. Sound came out out of my mouth.
If you need help reigniting your love for your family: "Other People" (2016)
Chris Kelly (SNL) wrote and directed this beautiful, semi-autobiographical treasure, and an amazing cast took it and acted the living shit out of it.
Molly Shannon will make you weep, but so will Jesse Plemons. You're going to weep. Prep for that beforehand if you're weird about crying. Also, John Early proves he delivers 100 percent of the time, regardless of the role. I would watch John Early silently check his Twitter alone in his kitchen.
This movie will make you hug your mom the way she wants to be hugged, not the kind where you pretend you're about to hug her and then slump your 5'10" body deadweight in her arms in public 'til you bring her to the floor.
BONUS: You won't have to "keep an eye out" for child wonder J.J. Toah, per se, but do it anyway. Your immediate instinct will be to adopt him, but he already has parents.
If you're ready to say your final goodbyes: "Barry" (2016)
You don't know what you got 'til it's gone...
If no one's around: "The Lizzie McGuire Movie" (2003)
This movie takes Lizzie the one place we always wanted to see her go: Rome. Except, I didn't need to tell you that. You've already seen "The Lizzie McGuire Movie," and you're going to see it again, you fucking fraud.
Maybe you'll watch it tonight.
Maybe your heart will swell when they tear away Lizzie's silver gown at the end to reveal -- HOLY SHIT! -- silver pants???
Maybe you'll finally admit to yourself this is, in fact, what dreams are made of (hey now).
Either way, you're going to have to continue pretending you've seen "Citizen Kane" knowing full well you've perfected Paolo's accent.
If you're blazed RN: "Mac & Devin Go to High School" (2012)
This movie doesn't care whether anyone sees it. That's a beautiful thing. Also, much like "Last Holiday" and "The Lizzie McGuire Movie," there's a full-fledged musical number.
I'm not saying watching this film is time well spent, but neither is drinking all your dad's beer while everyone looks through old photo albums and laughs about how your grandfather used to berate the family dog.
(His name was Charlie. The dog, I mean, not my grandfather. My grandfather's name was Tony, and he is berating that same dog in heaven as we speak.)
If the only movie you want to watch is TV: "Chewing Gum" (2015-)
Michaela Coel plays Tracey, a 24-year-old virgin just tryna get a lil' action. Her physical comedy is brilliant, and the series itself is adapted from a play she wrote in college. She won a frickin' BAFTA for this, OK?!
Just watch it.