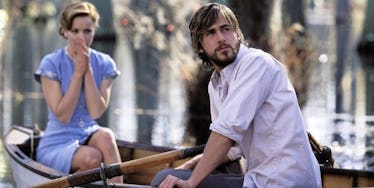 7 Movie Characters Who Created The Rulebook For What A BF Should Be
New Line Cinema
If you're a diehard hopeless romantic like I am, one of your favorite things to do is watch a prime chick flick with a bottle of wine.
Not only do you watch them, but you also fall in love with every single moment when the leading man shows chivalry and passion. These are the kinds of moments that send chills up and down your spine.
These moments make us dream, and set the bar high for the kind of love we want to experience someday.
These movies are ones we watch again and again, without ever getting tired of them.
There are some movie characters who truly broke the mold when it comes to being ultimate boyfriend material. Because let's face it: These dudes are in the movies.
Real talk: Where the heck is Prince Charming chilling IRL, though?
These are the movie characters who created the rulebook for what a spectacular boyfriend should be. They exude hotness, charisma AND charm.
DAMN, they're the entire package.
1. Noah in "The Notebook"
UGH.
First of all, can we just talk about how much of a timeless hunk Noah is? That sexy, passionate kiss he shared with Allie in the rain is a classic.
Noah designed a paint room just for Allie because he actually listened and cared enough to remember her dreams. He showed passion and love for Allie right until the end of their lives, making it clear he only had eyes for her.
2. Jack Dawson in "Titanic"
One of the most iconic scenes in "Titanic" was when Jack taught Rose how to fly on the bow of the ship, with the sun setting in the background.
They then kissed for the very first time. It defined an intimate moment at its best.
Jack loved Rose so much, he even gave her the only flotation device he could find, therefore putting her needs before his own.
3. Edward Cullen in the "Twilight" series
Granted, Edward was a vampire. But who could resist being presented with an unbelievably exquisite engagement ring that had been in his family for centuries? Bella obviously said yes.
As Bella walked down the aisle on their wedding day, she was so nervous... but she looked up to see Edward.
He only had eyes for her, and it was as if they were the only two at their wedding ceremony. He would always do everything and anything to protect and love her.
Their connection really reflected what finding a soulmate should be like. Whether he's a vampire or not, that's what true love is.
4. Landon Carter in "A Walk To Remember"
OK guys, there's no explanation necessary for this: Landon bought Jamie a freaking STAR because he's so damn romantic.
His love for her never faded, even when he knew she was terminally ill. They got married before she left the world, and it broke all of our hearts because it was so beautiful.
5. Patrick in "10 Things I Hate About You"
We all know Patrick and Kat's romance started as a game, but it blossomed into something so much more. He really opened up to Kat and let her into his life.
In the end, they were made for each other.
Patrick had the badass act down pat, and was oh-so sexy in his ways. One of the sweetest things he did was put on a show for Kat, singing on the bleachers in front of everyone.
6. Peter Parker in "Spider-Man"
It was SO passionate when Mary Jane pulled down Peter's mask and kissed him upside down. Mary Jane had her very own superhero, and she didn't even know it for a good part of the movie!
You go, girl.
Peter Parker loved Mary Jane since day one (aw). He rocked that modest, studious, sexy type like a total stud muffin.
7. Steve Edison in "The Wedding Planner"
Who can forget the epic moment when Steve ran to the middle of the street to rescue Mary from getting hit by a dumpster? Talk about being in the right place at the right time, Mary!
Their eyes met, and it was so freaking adorable.
Who wouldn't fall hopelessly in love with Steve, though? He saved Mary's life AND her Gucci shoe in the process. Guy knows how to please a gal in BOTH love and fashion.
These leading men know what's UP when it comes to defining prime boyfriend material. The challenge, though, is finding them in real life.