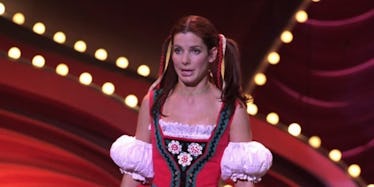 'Miss Congeniality' Comes To Netflix In October, So Start Practicing Your Pageant Wave
Warner Bros./YouTube
Aloha, Netflix fanatics, it's no surprise that every month our favorite streaming service removes a bunch of films and TV shows and, in turn, adds a bunch to keep us carnivorous binge-watchers satiated. That being said, I come bearing excellent news: Get ready to relive the magic of your favorite Sandra Bullock movie because Miss Congeniality is coming to Netflix in October. That's right, one of the most iconic movies of the 2000s is making its way to our computer and TV screens in just a few short weeks and I, for one, could not be more pumped.
Netflix is adding Miss Congeniality to its list of streamable films this October, along with tons of other classics and recents hits, and it's really about time if you ask me. If there is one surefire way to beat the cold this fall, it's to curl up with a blanket and laugh out loud for two hours watching the tough FBI agent Gracie Hart try to become the delicate, ladylike pageant contestant Gracie Lou Freebush.
A full list of new additions hitting the streaming service will be available this Wednesday (September 20), but, if I'm being honest, I doubt any of the titles will be able to compete with Miss Congeniality. (Unless, of course, one of those titles is Miss Congeniality 2).
It's a good thing Miss Congeniality is here to save the day, too, because it was recently announced that tons of fan favorites like One Tree Hill, Friday Night Lights, and 30 Rock will be leaving Netflix in October. Naturally, fans of these series are not at all pleased with the decision to remove them from the platform, but hopefully all the new additions will soothe their anger.
Indeed, in recent months the streaming service has been removing some of its popular titles like American Horror Story in what appears to be an effort to make way for more of its own original shows, movies, and specials. As Netflix has grown from being primarily a streaming service into an original studio, classic Netflix originals like The Unbreakable Kimmy Schmidt, House of Cards, and Grace and Frankie are continuing to grow, and new Netflix originals like Ozark and The Defenders are hitting the scene; it's clear that the service is focusing more than ever on distributing its own content.
Still, the decision to remove certain movies and shows each month seems arbitrary, so BuzzFeed recently asked Netflix to break down how they go about choosing which titles to remove and which ones to keep. The online platform told the outlet that the decision boils down to several factors: 1) contracts with the show's/film's distributors, 2) member feedback, 3) the show's/film's popularity, and 4) the number of similar titles available on Netflix.
Other times, Netflix might have a rotating content deal with a studio, which means they're routinely sent new movies and shows to distribute on rotation; when this is the case, Netflix pretty much has nothing to do with removing the content. The service tells BuzzFeed, "In that case, we do not or cannot renew. We put the money toward other content we think will bring members joy." Like, oh, I don't know, Miss Congeniality.
Netflix went on to say, "As we expand our content portfolio, our goal is to continue offering great movies and TV series for our members, while also providing content that is available exclusively on Netflix."
Clearly we're in for a whole bunch of new additions in the coming months as Netflix continues to develop its already flourishing studio, but, in the meantime, Miss Congeniality is the perfect appetizer for the amazing content to come.
Check out the entire Gen Why series and other videos on Facebook and the Bustle app across Apple TV, Roku, and Amazon Fire TV.