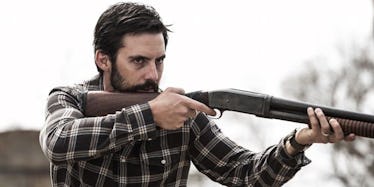 'This Is Us' Star Milo Ventimiglia's New Thriller Will Totally Blow Your Mind
Mednick Productions
If you spent last year eagerly awaiting Jess Mariano's return to Stars Hollow on "Gilmore Girls: A Year in the Life" or spent the first part of this year becoming obsessed with Jack Pearson on "This Is Us," the idea of Milo Ventimiglia taking on a sci-fri horror film is an intriguing, albeit a bit foreign, concept.
His latest movie role is just that -- intriguing and totally different.
Premiering at the Tribeca Film Festival this week, "Devil's Gate" stars Ventimiglia as Jackson Pritchard, a man whose wife (Bridget Regan) and son (Spencer Drever) mysteriously disappear.
FBI Agent Daria Francis (Amanda Schull) teams up with Deputy Colt Slater (Shawn Ashmore) to investigate what looks like a crime in the small town of Devil's Gate, North Dakota.
As night descends on Pritchard's farm, things quickly go dark in more ways than one in this psychological thriller that boasts an unfamiliar twist.
Speaking on stage after the premiere of the film in New York City on Monday, Ventimiglia told the audience,
I don't know that I set out to find a genre thriller... aliens, gods, devils, demons... any of that... it was just kind of like, I read the script, I loved it, I saw the cast assembled -- they're friends and I'm a fan -- and I was like, 'This just feels like it would be fun to make.'
And it was fun... but it was also dark and fucked up and cold and there were mice in the barn and stuff like that... but just being a part of the thrill of the ride, it was a blast.
I got the chance to sit down the next day with writer and director Clay Staub, co-writer Peter Aperlo, and actors Amanda Schull and Shawn Ashmore to talk a little bit more about what makes this project so special.
Staub, who studied both art and film and has worked on movies like "Dawn of the Dead," "300" and "Justice League," first began sketching out the idea for "Devil's Gate" back in 2011.
Staub explained,
I tend to work sort of backwards because I draw and stuff and I just was trying to find something I had in my head, I just didn't know how to structure it. I just started laying stuff out and then I had the idea... And then Peter [Aperlo] came on board... he immediately got it. I started showing him some of my artwork... By the time we rendered out the script in the early days, by the time it got to [producer Scott Mednick], it was finely tuned. And then when Scott got it to [the cast], it wasn't like reading a first draft.
Working with a cast who had a lot of TV experience also made the whole process run smoothly.
Staub said,
I knew right away when we were shooting, this is going to work. This is going to work. It came together that way... I go back to Scott Mednik because he saw what I saw, which was this is not going to be an easy shoot and we don't want difficult people. And it's your first film, and Clay you need love. You need people who support you. And I can't say enough for all of our cast. I mean, everybody gave a huge safety net to me on trust your instincts, and we went with it.
At the premiere, the actors talked a lot about the lookbook Staub created for the project and how his images really drew them into the script in the first place.
Speaking on why she got involved, Amanda Schull, who currently stars on "12 Monkeys" and "Suits" and was Jody in 2000's "Center Stage," said,
I think there are a number of reasons I was drawn to it. I've never done anything like this, first of all, which is really exciting and intimidating... and then also... do you see Clay's enthusiasm? To have someone at the helm who believes in the project so much and is excited about it and is excited about every single day, every single scene, every single moment. There are some directors you get to set and they're just crab apples... This could not have been more different from that. But also, I will confess that because I haven't done a lot of film, or projects like this... I didn't understand it completely, and that's where the lookbook came into play... He created these beautiful images to explain and guide through what I might not be capturing through the written description of what was going on and that was really helpful for me because I am a very visual learner and I didn't grasp a lot of it right off the bat.
Shawn Ashmore ("X Men: Days of Future Past," "The Ruins," "The Following") added on to that, saying,
The universe was created... once you buy into this world, the visual style, the ambience, the atmosphere of the whole thing... it's nice to just have a visual representation of the space that you're going to be... So for me, that was a huge help. And I've never gotten a lookbook quite as compelling as this, and that's the truth. You know, you get a lot of scripts, you read a lot of scripts -- as actors, as directors, writers -- and I tend to be very good at seeing where they're going. The first 20 pages, I'm like I understand where this is going, and I thought I knew what 'Devil's Gate' was and then I hit about page 30 and I was like, 'Whoa wait a minute I didn't see that coming.' And as a fan of genre film making, of psychological thrillers, that's what I want to see as an audience. I want to be surprised. I don't want to see it coming. So much stuff that tries to create something different and it doesn't necessarily succeed, and when I read 'Devil's Gate' -- this is something that I want to see in theaters.
The one thing that was very clear from the premiere and the sit-down the next day was just how close the cast became and the mutual admiration that existed.
Schull opened up about that bond they formed and the whole filming experience, telling me,
I think it was a little bit of lightning in a bottle... Every single one of them, every single day, I liked them more. And we were in this situation where we're shooting out at the farm... It was about an hour long drive. We took it together every single day and chatted the whole time. Nobody was on their phones, nobody was talking to their manager or their publicist or doing anything typical or what you have heard nightmarish stories about, and our trailers were separated from our location so we stayed between setups and scenes in this mouse-infested barn. No Wi-Fi service, no cell service, and we just sat there and talked... for hours and hours every single day. It was so much fun.
Devil's Gate is currently playing at the Tribeca Film Festival.