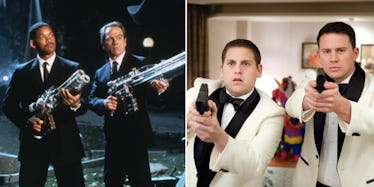 Sony Confirms A 'Jump Street' And 'Men In Black' Crossover Is In The Works
Columbia Pictures
As part of the infamous Sony hack, it was revealed the studio was working on a strange crossover between its "Jump Street" franchise and "Men in Black."
Now, Sony has confirmed those plans. Not much is known about the idea as of yet.
However, the directors of the first two "Jump Street" movies, Phil Lord and Chris Miller, have expressed interest in the project.
It's a crazy idea to try to place Jenko and Schmidt in a world full of aliens. But, it's so crazy it just might work.
Presumably, Jonah Hill and Channing Tatum would return for this version.
In related news, Sony also greenlit a female spinoff of the "Jump Street" films.
There is no word on who will star in that film, but it will be scripted by two "Broad City" writers, Lucia Aniello and Paul Downs.
Basically, it looks like "Jump Street" is getting its own cinematic universe, and I suppose there are worse things than that.
Citations: Jump Street Franchise Goes Large As Sony Confirms Female Led Spinoff And Men In Black Crossover (We Got This Covered)