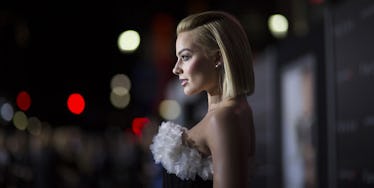 Margot Robbie Looks Unrecognizable Wearing Mom Jeans For Her New Film
REUTERS
Fresh from her secret wedding to film director Tom Ackerley, Margot Robbie has been spotted donning some very '90s attire for her upcoming role as disgraced figure skater, Tonya Harding.
Here, take a closer look.
On any given day, Robbie can be spotted looking chic enough to make everyone envious of her closet.
On the red carpet, the woman is basically a goddess.
So it's VERY ANNOYING that even under the prosthetics and in outdated attire, Robbie is still a bombshell.
Sigh. 
On Monday, Robbie and her mom jeans were caught strolling around the set of the biopic, "I, Tonya," sporting a curly blonde wig and a grimace, fit for a role as figure skating's fallen star.
The movie details the 1994 attack on rival figure skater Nancy Kerrigan.
The two were preparing to compete for gold in Norway at the '94 Winter Olympics, when Harding, among others, conspired to injure Kerrigan just seven weeks before the competition.
A hitman, hired by Harding's ex-husband Jeff Gillooly, was paid to break Kerrigan's leg as she was exiting her practice in Detroit, Michigan.
And although in the video above it's clear she was badly injured, the attack did not keep Kerrigan out of the competition, and she went on to win a silver medal. Harding finished in 8th place.
For her involvement, Harding was banned for life from the US Figure Skating Association and was given three years probation, 500 hours of community service and a $160,000 fine.
Robbie will star opposite Sebastian Stan, who will play Gillooly.
Gillooly split from Harding in 1993, a year prior to the event.
For his involvement, Harding's ex received jail time, but the sentence was lessened after he implicated the former ice princess in the crime.
He was released from prison in 1995.
Joining Robbie and Stan are Allison Janney of "West Wing," and Paul Walter Hauser, best known for his role in the television drama "Kingdom."
The movie isn't set to be released until 2018, so it's safe to assume more details are coming our way.
Citations: TMZ