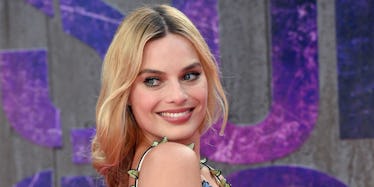 Margot Robbie's Wedding Gown And Ring Are Insanely Beautiful In First Photos
REX/Shutterstock
The secret is officially out: Margot Robbie got married this weekend, and she posted the ring on her Instagram to prove it.
The 26-year-old actress married British director Tom Ackerley in a private ceremony in Australia over the weekend, and friends and family who attended were sworn to secrecy.
But, hey, you know how it is — sometimes it's just too hard to resist posting that Snapchat!
Long story short, thanks to a few leaks and photos, the secret got out.
And because Margot is the perfect woman, probably, she responded by confirming the rumors with this picture (and no caption) on her Instagram:
If you look closely, you can see Margot isn't actually flipping the camera off, but is instead showing off her ring finger and engagement ring.
And what a beautiful engagement ring it is. That's a pretty impressive diamond.
It's hard to see, but right below the engagement ring is a simple gold band — Margot's wedding ring.
So yes, she is definitely married.
And yes, if you're one of those nerdy dudes who thought you had a chance with this gorgeous woman — you don't.
Thank you, Margot!
The world also got a first glimpse of Margot's wedding dress on the special day, thanks to some photos obtained by news.com.au, an Australian news site.
The photos aren't super high quality thanks to the whole secret wedding situation, but it looks like Margot was wearing a beautiful, lacy, off-the-shoulder dress.
She obviously looks gorgeous, but I want MORE, dammit!
Margot, pretty please, post a picture of you in your dress on Instagram? C'mon, aren't I entitled to all of your most intimate and personal life experiences?
Oh, what's that? I'm not?
OK, fine.
Margot and her new husband, Tom, first met two years ago, on the set of the 2015 film, "Suite Française."
Since they began dating, they rarely made public appearances together — but I have a feeling that's about to change soon.
Congratulations to this British director guy for marrying the most gorgeous woman of all time! I'm not bitter at all!
Citations: A First Glimpse Of Margot Robbie's Wedding Dress And Engagement Ring (Elle UK)