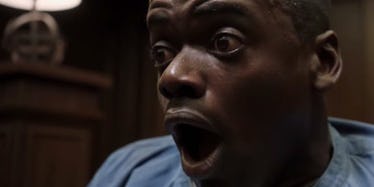 Jordan Peele's Working On Another Social Thriller To Follow 'Get Out,' So Get Ready
Universal
A couple of months ago, Jordan Peele rocked the world with the release of his wildly original horror movie "Get Out."
The surprise smash combined the specificities of racial politics in America with elements of sci-fi and horror so brilliantly, it instantly became the movie everyone was talking about. And now, Jordan's ready to do it again.
Jordan Peele has just signed a new deal with Universal (the production company he teamed up with for "Get Out") to produce another social thriller, Variety reports.
We still have no clue what Jordan's next social thriller is going to be about just yet — it could be as direct a follow-up as "Get Out 2" or taken on a totally different social issue altogether. If it does wind up using characters from "Get Out," though, I'd be all about a movie starring Lil Rel's voice of reason TSA agent Rod Williams.
What we do know is Jordan Peele will be the writer, director and producer of the new movie, as he was on "Get Out." And it will yet again be based on one of Jordan's original ideas, which is so refreshing in this era of reboots, adaptations and blockbuster franchises we seem to be in.
And it sounds like Jordan isn't lacking in ideas. After "Get Out" was released, he told ScreenJunkies  he has a bunch of social thriller movie ideas he wants to get made in the next decade.
I love this idea of the social thriller, and that the worst monster you can explore in a horror movie is human beings themselves. I have these other films I want to do in the next 10 years or so about different social monsters.
So, it sounds like "Get Out" fans might actually be getting multiple new social thrillers from Jordan Peele in the years to come! I hope you're ready to scream.
Citations: 'Get Out' Filmmaker Jordan Peele Lands First-Look Deal With Universal (Variety)