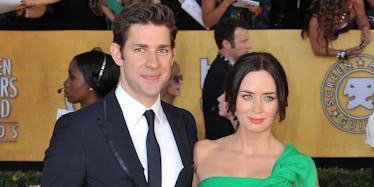 John Krasinski Admits He's Seen 'The Devil Wears Prada' 75 Times
Shutterstock
Really, though, who hasn't seen "The Devil Wears Prada" like, a thousand times?
John Krasinski can't help but escape to the halls of Runway Magazine every once in a while, just like the rest of us. The only difference is, the rest of us aren't married to Emily Blunt.
In an interview with E! News' Marc Malkin, "The Hollars" star/director recalled the first time he admitted to his wife just how many times he'd seen her film.
He said,
There was one day when it was on and I said it was so good and Emily said, 'Have you seen this movie?' I said, 'A lot of times.' She said, 'That's so sweet, but how many times?' Luckily, we had been dating for about a year so there was a lot of trust built up and I said, 'Like, 75.'
John spent the first year of their relationship keeping his love for Miranda Priestly and the rest of the fictional fashion elite a secret.
He shared,
We had just started dating and she had come over to my house. She popped by in between some things and I was watching it… She opened the door and I flipped the channel and she looked at me like, 'Were you just watching porn?'...I think it was better for me at the time for her to think I was watching porn than watching 'The Devil Wears Prada' for the 75th time.
Smart, John, smart. It's too often one of us non-celebrities will scare off a new lover by getting caught watching their movies. So, we know that struggle.
Now that the couple has been together eight years and have two daughters, Hazel and Violet, they can shamelessly enjoy the film as a family.
Citations: John Krasinski: About That Time Emily Blunt Thought She Caught Him Watching Porn (E! News)