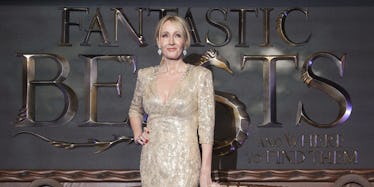 JK Rowling Drops Major Info Connecting 'Fantastic Beasts' And 'Harry Potter'
REX/Shutterstock
Warning: This post contains spoilers for "Fantastic Beasts and Where to Find Them." I mean, you had all weekend to see it. C'mon.
If you saw "Fantastic Beasts and Where to Find Them" all the way through the reveal of Johnny Depp's gross face, you know there's a lot to come in the four sequels.
(Note: While Lord knows I have plenty of problems with Johnny Depp as the role of Gellert Grindelwald, I am actually being fairly objective when I call his face in the film gross. Did you guys see that hair and makeup? That was textbook gross.)
After the weekend premiere of the first "Harry Potter" spinoff film, JK Rowling took to Twitter to answer some fan questions about her first ever screenplay.
She couldn't answer everything, lest she spoil the next four films, but we did get confirmation on a few things: Newt Scamander's Hufflepuff pride, the return of Queenie, Frank the Thunderbird's safe trip home and, most importantly, a timeline for the films.
As a fan pointed out, originally Rowling had stated the "Fantastic Beasts" franchise would be three films, but upped that number to five to fit all of the story.
If you're a "Harry Potter" superfan, you'll know the year 1945 is pretty significant in the Wizarding World.
(If you're not a superfan and would prefer not to be spoiled for the final "Fantastic Beasts" film, I'd stop reading now.)
As we learned in the very first book, thanks to Albus Dumbledore's chocolate frog card, 1945 is the year Dumbledore defeats the dark wizard Grindelwald.
The card reads,
Albus Dumbledore, current headmaster of Hogwarts. Considered to many the greatest wizard of modern times. Professor Dumbledore is particularly famous for his defeat of the dark wizard Grindelwald in 1945, for the discovery of the twelve uses of dragon's blood, and his work on alchemy with his partner, Nicolas Flamel. Professor Dumbledore enjoys chamber music and ten-pin bowling.
We already know director David Yates is on the hunt for an actor to play young Dumbledore in the second "Fantastic Beasts" film, so it sounds like the big climax of the fifth film will be the battle of Dumbledore and Grindelwald.
Of course, fans of history will know the year 1945 is pretty significant in the Muggle world, too.
It looks like we'll be getting an insight into what all the wizards were up to during World War II.
Citations: J.K. Rowling tackles your burning 'Fantastic Beasts' questions (Mashable)