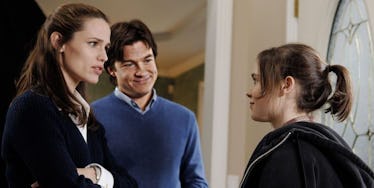 Jennifer Garner, Ellen Page Team Up For 'Juno' Live-Read For Planned Parenthood
REX/Shutterstock
For one night only, "Juno" is coming back after 10 years.
But it's going to look very, very different.  The people behind the 2007 comedy are hosting a live-read with women playing all the male roles, in a bid to raise funds for Planned Parenthood.
And don't worry, guys: Ellen Page and Jennifer Garner will be back to lead the one-off show, which is happening in Los Angeles next month.
In case you've forgotten, the movie is about a teen who gets pregnant and decides to give the baby up for adoption. So, it's going to be fascinating to see how they fill the male roles.
Obviously, it's as relevant as ever, especially considering what's happened to American politics over the past few months.
Director Jason Reitman told Entertainment Weekly his thoughts behind the surprise relaunch.
He said,
Like many other people, I felt like I wanted to do something. I wanted to find a way to contribute to the causes that have never felt more important. Considering how much this election has done against women and what Planned Parenthood has done for women, I thought it would be cool to hear this script with an all-female voice. If there was any confusion about whether "Juno" was pro-choice or pro-life, this should settle that. Juno had a choice, and that was the most important part.
So, there you have it, folks.
Reitman – who was nominated for an Oscar for directing the cult favorite – said other shows will follow in what's basically a big middle finger toward the Trump administration.
Subjects will include immigration and fake news, so it's clear Reitman was shaken up by last year's election.
If you're a hardcore "Juno" fan, original artwork and memorabilia will be up for grabs at the reading at the Ace Theater in LA, with all the money raised going to Planned Parenthood.
Tickets for the reading on April 8 can be bought here.
Reitman will announce the rest of the cast — including which women will fill the roles played by Michael Cera and Jason Bateman — on Twitter.
Citations: Entertainment Weekly