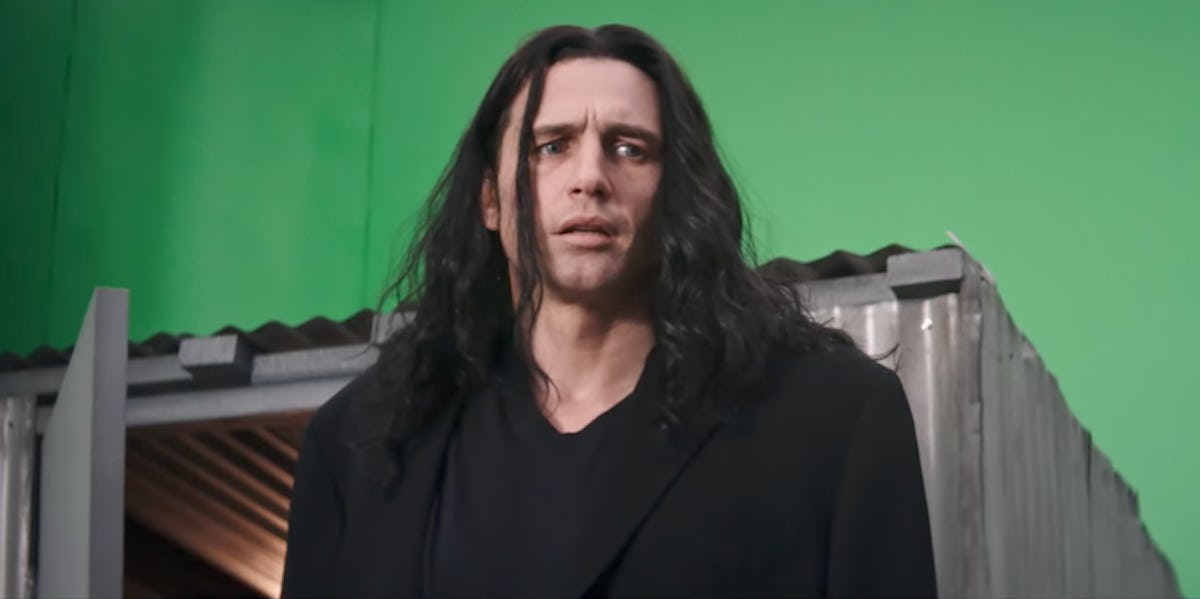 James Franco Recreates Iconic 'The Room' Scene In First 'Disaster Artist' Trailer
A24
Good movies get a lot of praise, but in my opinion, epically bad movies deserve more credit. There's nothing better then sitting down with some friends and watching a movie so bad that you can't help but burst out laughing every other second.
And no bad movie has ever come close to being as mind-bogglingly, hysterically, (geniusly?) horrible as Tommy Wiseau's 2003 cult classic The Room. Famously dubbed "the Citizen Kane of bad movies," Wiseau's perplexing tale of a deadly love triangle surprisingly inspired a huge fanbase, and lives on to this day in midnight showings where fans yell out famous lines, throw spoons at the screen, and take breaks to throw around a football.
But now, it's James Franco's turn to take on the loud, passionate, and nonsensical role that made Tommy Wiseau an iconic name among cult movie fans.
Franco stars as Wiseau in The Disaster Artist, the upcoming film based on Greg Sestero's autobiographical retelling of how The Room came to be made. The first trailer is here, and it gets right to the heart of one of The Room's most famous scenes: when Wiseau's character Johnny barges onto the roof to deliver the line "I did not hit her. I did not! Oh, hi Mark."
The trailer shows Franco's Wiseau struggling to remember the short line as the movie crew (including Seth Rogen as script supervisor and Dave Franco as Sestero) grows more and more impatient, finally rejoicing to get a take of Wiseau delivering the lines at all, even if they still sound very strange.
Not appearing in this first trailer is the rest of the star-studded cast, which is honestly insanely stacked! Zac Efron is playing scene-stealing gangster Chris-R and Josh Hutcherson plays the creepily over-affectionate neighbor Denny. Not to mention Sharon Stone, Bryan Cranston, Adam Scott, Kristen Bell, and more.
And although it's about a famously bad movie, it looks like The Disaster Artist is actually going to be... good! It got a standing ovation when it screened at SXSW, and already holds a 92 percent on Rotten Tomatoes (compared to The Room's actually-not-abysmal 32 percent).
The Disaster Artist hits theaters on December 1.