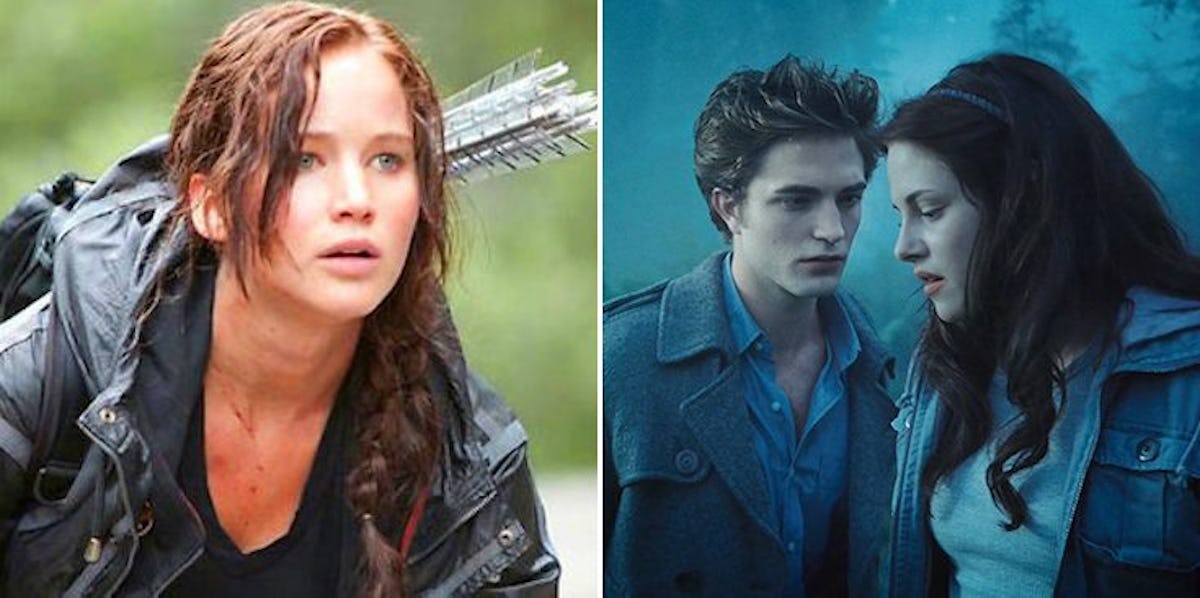 'Hunger Games' & 'Twilight' Sequels Could Be Coming, According To Lionsgate
Lionsgate
It looks like Lionsgate has come up with a nifty solution to its two biggest franchises ending: Make more movies anyway! According to a new report from Variety, the studio if very seriously considering Hunger Games and Twilight sequels, despite the lack of book source material for either franchise. Taking a page from Star Wars' book, Lionsgate CEO Jon Feltheimer implied the studio wants to pursue Twilight and Hunger Games spinoff films if authors Stephenie Meyer and Suzanne Collins give their blessings.
"There are a lot more stories to be told, and we're ready to tell them when our creators are ready to tell those stories," Feltheimer reportedly said in a quarterly earnings call with analysts on Tuesday. So it sounds like Meyers and Collins still have the right to decide whether or not Lionsgate can use their characters to create more films.
However, if the authors give into the temptation of huge paychecks and decide to sell those rights over to Lionsgate, fans could very well see a Star Wars situation play out with Twilight and The Hunger Games. In 2012, George Lucas agreed to sell his production company, Lucasfilms, to Disney, giving Disney full ownership over the Star Wars franchise. Since then Disney has released two Star Wars films without the input of Lucas, and has at least another four films in the works. So should Meyers and Collins give the OK, I'm guessing we'll be getting spinoffs like The Gale Chronicles and Vampire One.
Or if the authors don't want to relinquish full control as Lucas did, Meyers and Collins could follow in the footsteps of Harry Potter author J.K. Rowling and write the spinoff screenplays themselves, as Rowling did with Fantastic Beasts and Where To Find Them. If even Rowling caved, it seems likely Meyers and Collins will follow suit soon.
Of course, it seems highly unlikely that Kristen Stewart or Robert Pattinson would return for a Twilight sequel, considering how often the actors have voiced their dislike of the franchise. But surely Taylor Lautner would be on board for more shirt-pulling-off in the rain.