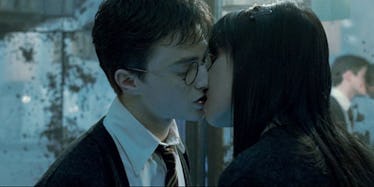 This 'Harry Potter' Podcast Is Basically '50 Shades Of Grey' At Hogwarts
Warner Bros.
Rule 34 states that as long as there is a fandom on the internet, there will be, ahem, sexually related material for said fandom. And as long as there has been Harry Potter in the world, there has been fan-fiction for it. These two facts have been crisscrossed and intertwined since the early days of Live Journal, right up to today's world of AO3 and Dreamwidth. And now those smutty fanfics have a new home on Potterotica, a Harry Potter podcast.
Now in their second season, the Potterotica podcast is gaining fame (or maybe infamy) in the wake of the 20th anniversary of the original publishing of Harry Potter and the Philosopher's Stone (Sorcerer's Stone here in America.) Started by Lyndsay Rush and Allie LeFevere, with Danny Chapman coming on board this year, the three of them gather up the best, err, written wand work on the internet and read it aloud (and commentate) for your listening pleasures.
The character pairings aren't exactly canon. Season 1 featured a multi part series that focused on the "slash fic" pairing known as "Snermione." (Yes, that's Snape and Hermione. Because you know, his obsession with Harry's mother after her being deceased for decades wasn't creepy enough, now we have him dating students.)
While some might find hearing these stories read is a little on the 50 Shades of Potter side of things, the three of them consider it to be more of a comedy show -- albeit on that deserves an MA rating. (As well as a warning to all those Potterheads who would never like to think about Harry and Ginny going beyond kissing, thank you very much.)
Talking to Huff Post, Lyndsay Rush says:
Recording the podcast and discussing these things in this way feels like it would if I had a glass of wine with my friends and we were talking about sex. I don't know if it's necessarily that laughter is you masking your vulnerability or if it's just a shade of vulnerability. You're looking at this intimate thing in a lighthearted way.
For many, Harry Potter was their coming of age story, and with the recent surge in popularity of the books, especially after Harry Potter and the Cursed Child, it seems like it will be for the next generation that comes along too. And while Rowling's writing has always been rated G, that doesn't mean imaginations are.
Any outlet that helps young adults become more comfortable with their own feelings and desires is a good thing, especially if it's approached in a way that's like gossiping with your friends.
Check out the first five episode of the first season (above) and prepare to giggle along.