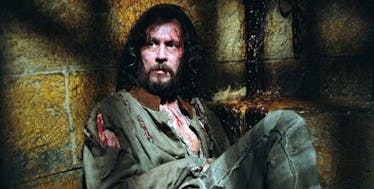 Harry Potter'-Themed 'Escape The Room' Challenges You To Break Out Of Azkaban
Warner Brothers
Are you ready to escape from Azkaban?
Are you ready to join forces with your fellow wizards??
Are you ready to visit Conshohocken, Pennsylvania???
OK, well, you can't have the first two without the last one, so get over yourself and rent a car.
Project Escape's new room, The Wizard's Secret, gives visiting groups an hour to use potions, spells and general badass British magic to free themselves from Azkaban, the Philly Voice reports.
Don't worry, Project Escape traditionalists, the venue's original room, The Big Score: The Heist of the Century, is still available for those of you with out a childhood, a sense of wonder or a love for "Harry Potter" and the supernatural.
The room is open to Happy Potter fans of all ages, though Project Escape specifies it's easier for those 12 years or older.
If you watched Harry, Hermione and Ron logic their way through obstacle after enchanted obstacle to get to the sorcerer's stone in the first movie and thought, "Ugh, TRY HARDER! Bored," then you are ready to escape the shit out of this HP-themed room.
Show the fictional child wizards of the "Harry Potter" franchise how truly incompetent they are while spending valuable time with your girlfriend's kids. They may never like you, but you're not really visiting The Wizard's Secret for those tiny losers. You're visiting it... for you.
You deserve to feel like the Dumbledore of your household, not the Filch. Hey, look at me, Doug. You are NOT the Filch.
Stop. Stop talking about yourself like that right now. And don't listen to those kids. You are the Dumbledore -- or, at the very least, the Hagrid -- of your home.
You are wise, you are virtuous, beasts respect you and, goddamn it, Douglas, you have just as much magic in your heart as anyone else out here.
I want you to turn around, look yourself in the mirror and say, "I am going to escape this room, whether I have the support of Angela and the kids or not. This is my journey. This is my calling. I am strong. I am special. I am doing this for me. I am doing this... for Doug."
Amen, brother. Now get out there and show 'em how it's done.
Citations: New escape the room game has a 'Harry Potter and the Prisoner of Azkaban' theme (Philly Voice)