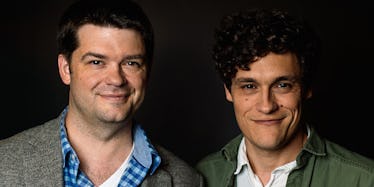 Here's Why The Directors Of The Han Solo 'Star Wars' Spinoff Were Fired
Ben Pruchnie/GETTY
Apparently even in a galaxy far, far away, you can't escape the Hollywood drama.
On Tuesday Star Wars fans were shocked by the news that Phil Lord and Christopher Miller would no longer be directing the upcoming Han Solo Star Wars film — despite the fact that they were already weeks into filming, according to The Hollywood Reporter.
Lord and Miller released an official statement on their departure, citing "creative differences."
The statement read,
Unfortunately, our vision and process weren't aligned with our partners on this project. We normally aren't fans of the phrase 'creative differences' but for once this cliché is true. We are really proud of the amazing and world-class work of our cast and crew.
(If you don't know much about the film industry, this is a very rare occurrence. Though directors have left blockbusters in the past, such as Tim Miller leaving Deadpool 2, it almost hardly ever happens so far into production.)
Now, as new details come to light, it has been revealed Lord and Miller, known for 21 Jump Street and The Lego Movie, allegedly did not leave the film voluntarily, but were fired by Lucasfilm.
Elite Daily has reached out to Lucasfilm for comment but did not hear back by the time of publication.
This new space drama intel is brought to you by Variety, who reports that according to a source close to the production, the directors conflicted with producer Kathleen Kennedy for creative control.
The source reportedly said,
It was a culture clash from day one. She didn't even like the way they folded their socks.
So it kind of sounds like Lord and Miller were fired because of how they wore their socks?
The source also told Variety the directors "weren't given the leeway to do what they had to do" because Kennedy didn't like the way they shot, worked, or spoke to the cast and crew.
The source went on to say that in addition clashing with Kennedy, the directors also bumped heads with co-writer and executive producer Lawrence Kasdan, who has been working on Star Wars films since 1980.
The source said,
Kathy, her team and Larry Kasdan have been doing it their way for a very long time. They know how the cheese is made and that's how they want it made. It became a very polarizing set.
This galactic drama is heating up, y'all.
The spinoff film will focus on a young Han Solo, played Alden Ehrenreich. Donald Glover, Thandie Newton, Woody Harrelson, Michael K. Williams, and Emilia Clarke are also among the cast.
Personally, I can't wait to get those DVD behind-the-scenes and analyze every ounce of drama (and those socks).