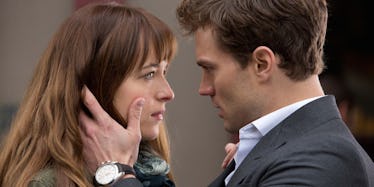 Man Was Allegedly Stabbed By Crazed Women At 'Fifty Shades' Screening
50 Shades Of Grey/Universal Pictures
"Fifty Shades of Grey" has been known to make women go kind of crazy, but this story gives those words new meaning.
Three women in Glasgow have been arrested after allegedly attacking a man during a screening of "Fifty Shades."
According to the Daily Record, the women stabbed the man with a wine bottle following his request for the "rowdy women" to quiet down.
However, it's unclear what exactly transpired as the G1 Group, which owns the cinema in which the attack occurred, claims no one was "glassed" and no one needed to go to the hospital.
The women in question are 31, 38 and 51 years of age. They were arrested for alleged assault and alleged disorder offenses.
The film sent women (and men) in a tizzy across the world as the movie shattered box office records in both the US and the UK.
Citations: Three women arrested in Scotland over Fifty Shades of Grey attack (Mashable)