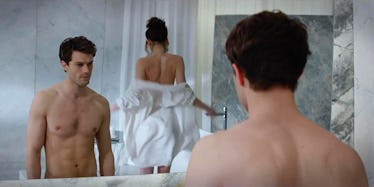 You Can Have Your Very Own 'Fifty Shades Of Grey' Experience For $12,000
Universal Pictures
"Fifty Shades of Grey" went bonkers at the box office this weekend, so it's no wonder people want to have the "Fifty Shades" experience in real life.
Now, they are able to do so for the low price of $12,397.
Women living in New York City or Los Angeles can pay the fee to embark on a one-of-a-kind sexual odyssey, courtesy of  The Fifty Shades Experience.
As part of the experience, the woman will get a man, her own Christian Grey, to take her on a helicopter ride and out to a fancy dinner.
After that, they will go back to a swanky apartment and get down to business.
The man playing Christian will be a professional dominant and he will perform some BDSM acts on the lucky lady.
There is even a dominant/submissive contract the woman in this situation must sign and obey for the duration of the weekend when the experience is taking place.
This is what the contract looks like:
It goes into great detail about the nature of the sexual acts that may occur.
While that may seem pretty intense, 52 people already had this "Fifty Shades" experience, and if you sign up now, you'll have to wait at least until May to get a spot.
I guess people just really like helicopters and nipple clamps.
Update: The Fifty Shades of Grey Experience website is now longer live.
Citations: You Can Now Pay Over twelve thousand dollars To Get Your Own Fifty Shades Of Grey Experience (BuzzFeed)