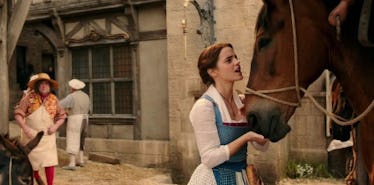 New Clip Of Emma Watson Singing 'Belle' Proves She's Perfect For The Role
Walt Disney Studios Motion Pictures
It seems like the whole world has been counting down the days until the live-action remake of the classic Disney movie "Beauty and the Beast" hits theaters next month.
Back in January, Disney gave us a sneak peak of Emma Watson waltzing around in Belle's yellow gown when the "Beauty and the Beast" movie trailer dropped.
If seeing Emma Watson bring your favorite book-loving Disney princess to life wasn't exciting enough, you might want to brace yourself.
Disney just gave us all another glimpse of "Beauty and the Beast," and people are totally losing their minds!
That's right. "Beauty and the Beast" just unveiled a new clip of Emma Watson belting out the lyrics to "Belle" in a scene from the movie, and this short clip proves Watson is perfect for the role of this iconic Disney princess.
The new clip, which was released on Monday, shows Watson singing a beautiful rendition of the song "Belle" as she makes her way through a bustling French village to return a book.
Seriously, if this is how amazingly she sings "Belle" I can't wait to see her sing "Be Our Guest" with a bunch of dancing plates, candles and flatware.
Disney posted the clip on its "Beauty and the Beast" Facebook page and so far, this video has already managed to rack up over 14,000,000 views.
So yeah, a lot of people are curious to see how Watson will compare to the OG Princess Belle, but it seems like this charming actress will not disappoint Disney fans by any means.
If you're wondering when you can finally see the whole movie, "Beauty and the Beast" will be hitting theaters on March 17.
Until then, you'll just have to tide yourself over by watching these trailer clips over and over again. I know I will be.
Citations: Watch Emma Watson Beautifully Sing "Belle" in This New Beauty and the Beast Clip (Cosmopolitan)