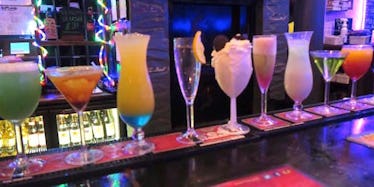 These Magical Disney Princess-Themed Cocktails Let You Get Drunk Like Royalty
If you've been wishing upon a star for the perfect boozy beverage, you're in luck.
We just came across a bar in Glasgow, Scotland called Driftwood Bar, that will make all of your drunken dreams come true.
That's right. The mixology wizards over at Driftwood just waved their magic bar spoons and made a bunch of Disney princess-themed cocktails poof onto their menu.
I repeat, Disney princess-themed cocktails are now real things, and these bippity, boppity, boozy beverages are the perfect reason to ditch your dry January New Year's resolution.
The menu includes all sorts of spellbinding concoctions inspired by your favorite fairytale characters, ranging from Snow White's "Poison Apple" potion and Princess Belle's "Be Our Guest" beverage to Queen Elsa's "Let It Go" libations and The Little Mermaid's "Under The Sea" sips.
Driftwood recently shared its new drink menu on Facebook, and it should come as no surprise people are totally losing their shit over these charming cocktails.
If you're looking to get royally shit faced on princess cocktails but happen to live in a kingdom far, far away from Glasgow, don't worry.
You can still turn up like a cocktail queen without leaving the comfort of your own castle by making these Disney drinks yourself.
In fact, there's even a whole recipe book filled with all sorts of fairytale tipples.
So far, we've seen magical drinks that will grant your wasted wishes...
Cinderella cocktails sure to make you lose a shoe...
...and beautiful drinks basically guaranteed to turn you into a drunken beast by the end of the night.
You can unleash your inner Elsa with a few frozen shooters...
Sling back a Snow White shot that's simply intoxicating...
Drink yourself into a coma with some Sleeping Beauty booze...
Wet your whistle with a Little Mermaid slushie...
...or vow to never grow up as you knock back a boozy beverage from Neverland.
If you're looking to embrace your villainous side, you can mix up a mean cocktail inspired by the evil stepmother...
Down a Cruella de Vil drink that really hits the spot...
...or get lit AF with a Hades cocktail that's straight fire.
Seriously, the Disney drink possibilities are pretty much endless.
So you can keep making these magical cocktails until you go absolutely mad.
Citations: This Glasgow bar launches a Disney-inspired cocktail menu today - and we can't wait to try them all (Glasgow Live)