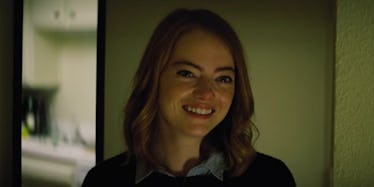 Emma Stone Sings Like An Angel In New 'La La Land' Trailer With Ryan Gosling
YouTube
Is there anything Emma Stone can't do?
Yes, probably. She is human after all.
But she can definitely sing, as you can see in the newest trailer for her upcoming film "La La Land."
The Damien Chazelle film features the actress singing a forlorn song titled "Audition." It is one of six original songs that will appear in the movie.
This is the third time Stone and Ryan Gosling will appear together, following "Gangster Squad" in 2013 and "Crazy Stupid Love" in 2011.
Also appearing in the movie is J.K. Simmons, who worked with Chazelle on "Whiplash". He won an Academy Award for Best Supporting Actor for his role.
The movie follows Mia (played by Stone), an actress, and her boyfriend, a struggling jazz pianist Sebastian (Gosling), as their relationship suffers when their careers begin to take off.
"La La Land" is set to premiere at the Venice Film Festival opening night on August 31.
It will open in limited release on December 2, and is expected to go nationwide on December 16.
In the meantime, put this trailer on repeat and fall deeper and deeper in love with Stone's beautiful voice.
Or just picture Ryan Gosling showing you a beautiful dinner he has planned. Honestly, this thought is the only thing that gets me through the day sometimes.